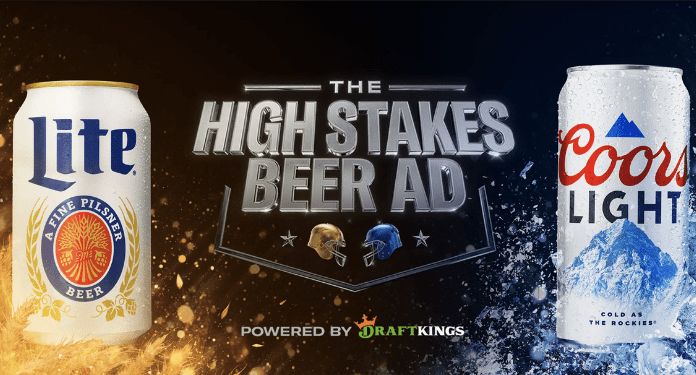 DraftKings, Miller and Coors have announced a new partnership to launch a new Super Bowl prediction game with prizes ranging up to $500,000. The 'High stakes Beer Ad' will allow fans the chance to win money by betting on the commercial the trio will air.
The prize pool is up to $500,000 and is one of the largest non-sports prizes in DraftKings history. Players will try to guess details of the ad ahead of time, such as which beer is mentioned first and how many people featured have beards. Predictions can be made online at any time and the team behind it has made several announcement templates, keeping even the CEO of Coors in the dark about which version will go live.
Michelle St. Jacques, CMO of Molson Coors, commented on the Super Bowl announcement: "After being excluded from the big game for over 30 years, we wanted to do something that had never been done before. By giving people the chance to predict every detail of the ad before it even airs, we're taking our fans on a new 'ride' and making them as excited about our return to the big stage as we are."
Meanwhile, Jay Danahy, Head of Brand Partnerships and Ad Operations at DraftKings, added, "The NFL Championship is one of the most anticipated sporting events in the world, a true American event that drives tremendous engagement for product on the field, as much as the commercials that air during game breaks".
"We are thrilled to be working with Molson Coors on an innovative free-to-play game that we believe will delight the sports fan as well as casual fans tuning in for more than just the main event," added Danahy.
About DraftKings
DraftKings is an American fantasy gaming and sports betting company. The company allows users to participate in daily and weekly fantasy sports competitions and earn money based on individual player performances in five major American sports (MLB, NHL, NFL, NBA and PGA), Premier League and UEFA Champions League, NASCAR, Canadian Football League, XFL, Mixed Martial Arts (MMA), Tennis, All Elite Wrestling (AEW), and WWE – plus many other sports around the world.