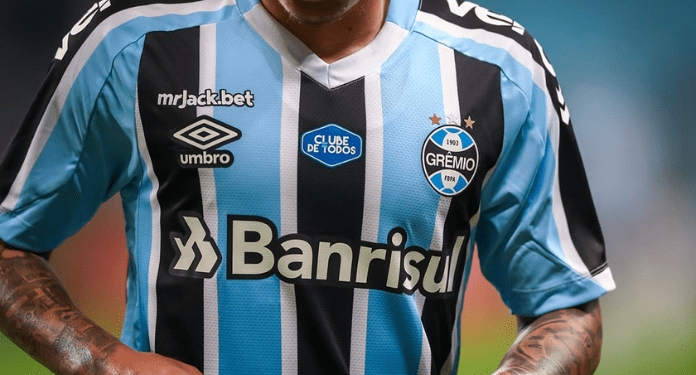 Grêmio's board is in talks with a new sponsor for the season. They have received an offer and are considering switching from their current sponsor, Mr. Jack Bet, already in 2023. The proposal, from another bookmaker, offers four times more than the current sponsor pays to print the shoulder blade of the Grêmio shirt, above the Umbro logo.
The new sponsor showed interest in placing its brand more centrally on the shirt, between the Grêmio shield and the Umbro logo, instead of on the shoulder blade.
The proposal is BRL 20 million in an agreement valid for three seasons, which would amount to around BRL 6.5 million per year. However, exclusivity is required. This means that Grêmio would have to terminate its contract with Mr. Jack Bet to initiate an agreement with the new bookmaker, whose name has not been released.
Banrisul may lose its space in the Grêmio shirt
The board of Grêmio has been contacted by another bookmaker to position its brand in the most noble part of the shirt, where Banrisul is located. So far, there is no formal proposal, just a sign of interest. The amount would be significantly higher than what the state bank pays annually to Grêmio.
Check out the map of sponsorships in Brazilian football
The recent mapping released by the IBOPE Repucom Institute presents the 2022 panorama of the sponsorship of uniforms for teams in the First Division of the Brazilian Championship.
The survey reveals the dynamics of the sponsorship market over the last season – an increase in the number of sponsorships with betting companies has been recorded. In 2022, 159 companies were highlighted as sponsors until the end of the championship, a number 8% lower than in 2021.
According to the mapping, companies in the real estate, construction and finishing sectors lead, with financial and sports betting companies right behind. The brands that supported the most distinguished teams in 2022 were:
1st place: Pixbet (6)
2nd place: Unimed (5)
3rd place: BitCi (4)
The survey highlighted that the 5 most represented sectors in 2022 were: "Real estate, construction and finishing" (19 exclusive brands), "Financial Sector" (18), "Sports Betting" (16), "Health Services" (15) and "Retail" (9).