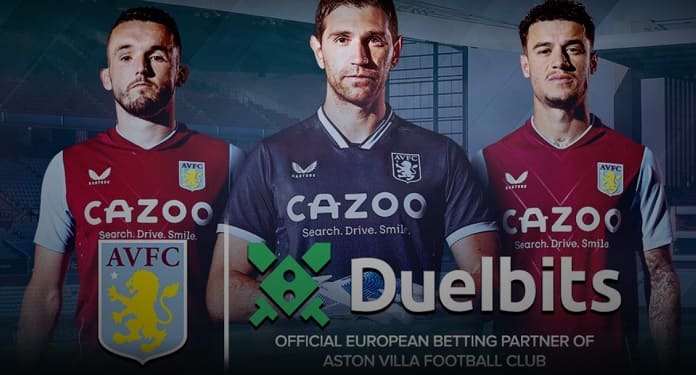 Aston Villa have just closed a European betting partnership with Duelbits for the 2022/23 Premier League season. Launched in 2020, Duelbits offers casino games and sports betting with the ambition to become a global brand, giving users better rewards and an easy-to-use product.
The deal will see the Duelbits brand appear on pitch-side LED signs during games as the club's home team at historic Villa Park, achieving great exposure for the company.
Nicola Ibbetson, Commercial Director at Aston Villa, said: "We are delighted to welcome Duelbits to our family of partners. It was clear from our first conversations that their ambition to challenge and grow matches ours. We look forward to working together this season."
Marco Pinnisi, Marketing Director for Duelbits, said: "Duelbits is made by people passionate about sports and casino games. We launched our bookmaker at the end of December 2021, with the product being fully developed in-house by a team of industry-leading experts."
"The deeply immersive and intuitive product is made for new and experienced sports betting players alike. Duelbits aims to continually develop a strong bookmaker that can be compared to the top brands on the market."
"We felt the time was right to give the brand the visibility it deserved and we couldn't have come up with a better way than to sponsor one of the Premier League's most recognizable clubs. This partnership reinforces Duelbits' desire to work with the most prestigious sports brands."
"Although we are a young brand, we wanted to be associated with a historic club, creating a great mix between heritage and new generation sports betting. We are extremely excited and honored to be supporting such a legendary club and are confident that this great mix will be particularly engaging for our Aston Villa users and fans."
About Duelbits
Duelbits.com website provides casino and sports betting with the aim of giving users the most rewarding gaming experience. Founded in 2020 and despite the COVID-19 crisis, Duelbits has become a well-known casino brand, particularly in the cryptocurrency niche.
The group's ambition is to become a global brand, offering users better rewards and an easy-to-use product, all accompanied by the cryptographic element, allowing for fast and secure payments. Duelbits.co.uk's offering includes sports betting, casino and gaming in partnership with TGP Europe and licensed by the UK Gambling Commission.