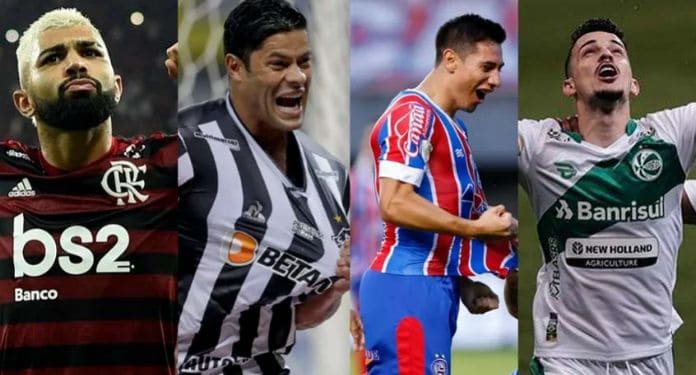 Brazil is currently seen as a great potential market for the iGaming sector, especially for sports betting, as the country has a tradition in football, a sport that has great incentives from bookmakers.
Although the sports betting sector in Brazil still has some issues to be defined, it is common to see football clubs in the country have some type of partnership or relationship with companies in the segment.
VEJA published an article citing that, in the exhibition of betting brands on team shirts, Brazil leads. In Serie A, 19 of the 20 clubs have partnerships of this type, reinforcing how big the sector is on the national scene and among fans.
Check out the full article about the bookmakers below.
When it comes to branding on club shirts, no one beats Brazil when it comes to sponsoring bookmakers. Around here, 19 of the 20 Serie A clubs have some kind of partnership with companies in this segment. The only one that escapes the rule is Palmeiras, which, however, has a sponsor of this medium in the women's team.
After Brazil, the Liga Portugal appears, with 16 sponsored teams in the jersey among the 18 participants. In the Premier League (England), there are 8 out of 20 teams with partnerships. In Ligue 1 (France), 6 out of 20 clubs. In neighboring Argentina, 6 of 28 associations.
Bundesliga (Germany), La Liga (Spain) and Calcio (Italy) do not have teams with exposed brands of companies in this segment. In these countries, rules have been implemented that reduce the participation of bookmakers in football. And the same can happen in England.
"This growth in the country is due to the conjunction of some factors: arrival of PIX, forced digitalization due to the pandemic and loss of sponsorship of some sectors by many football clubs", says Ricardo Bianco Rosada, CMO of galera.bet.
With the regularization of betting companies in the country, there are already rumors that only licensed companies could sponsor them here. "I believe that if that happens, the number of bookmakers tends to fall. We live in a growing cycle, which should become even more virtuous with the regulation and formalization of the responsible gaming policy in the country", adds the executive.