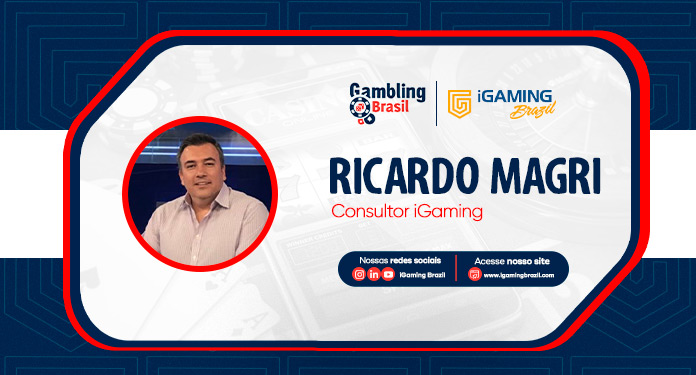 The iGaming consultant, Ricardo Magri, told details of his individualized performance in the Brazilian gambling market and praised the creation of the 'Brazilian Lounge' project. The interview was granted during Gambling Brasil, an event that took place last week in São Paulo, in parallel with Afiliados Brasil.
"It's another sign of industry growth. The Brazilian Lounge seeks to offer a space in a leaner structure at international fairs. This sector of ours is found at events, it's very sociable. It's a sector that works from event to event in several countries the world. The Brazilian Lounge will be a coworking space for Brazilian entrepreneurs internationally", he explained.
"The meeting point for those who want to talk about the Brazilian betting industry. This year, we will be at SBC Barcelona, ​​SBC Miami and SiGMA Malta, a giant fair in the sector and a partner of BiS (SiGMA Americas) that will take place in the coming weeks", he added.
Magri revealed how his first contact with the project was. "This project, for example, I delved into it because it benefited me at ICE London. In my role, I was looking for a location and it was very difficult to find an independent stand, so I used the Brazilian Lounge. I said that the idea was a very good one and I helped plan it. the expansion to other events, which is much needed".
In addition, the igaming consultant mentioned the success that the first edition of the Brazilian Lounge magazine achieved at ICE London 2023, one of the main events of the world industry. "The magazine was very well publicized at ICE, it encouraged the speeches that were there. It became a complementary product to the stand. We will continue with other marketing assets to explore the phenomenon of the Brazilian Lounge as a meeting point to talk about the Brazilian industry".
Plans for 2023
Ricardo Magri also detailed the plans for the remainder of 2023, acting on an individual basis. "The market supports an individualized practice of some businesses. I have marketing actions I've done for the industry, I always connect smart marketing actions and develop some. Initiatives with responsible gaming to treat the player who develops a compulsion and I worked a long time on integrity, which fights manipulation", he concluded.
Watch Ricardo Magri's full interview