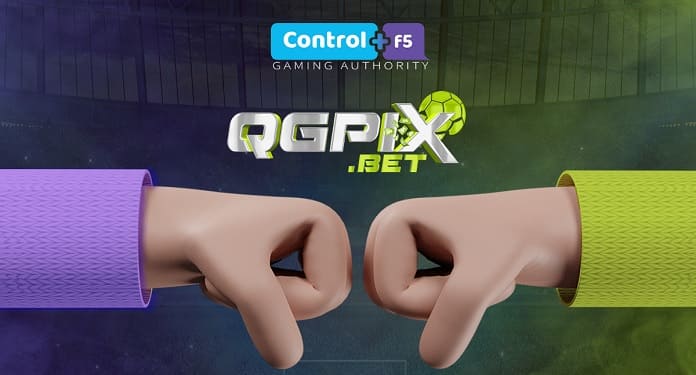 Another player in the online betting and gaming segment has partnered with Control+F5 Gaming. QGPix is ​​a platform that offers a wide range of sports betting and games.
The QGPix sportsbook is quite complete, with sports such as football, UFC, eSports, volleyball, basketball, tennis, American football, beach volleyball and others.
The house also offers a multitude of games such as roulette, blackjack, baccarat, scratch card and others. Live games are also present on QGPix. The site has the best developers in the world, such as Pragmatic Play and many others.
Bonuses and promotions are also a constant focus of QGPix, which invests both in acquiring new customers and in customer loyalty and retention.
QGPix perspectives and action plans
Jone Ladeira, Director of Operations at QGPix, explained QGPix's projects: "Since the foundation of QGSPORTS, 4 years ago, we have not stopped growing and following the discussions on the regulation of the betting segment. Now, we have decided to take another important step in our journey of success and credibility."
"We have employees and customers in several regions of the country, and now with QGPix, we are looking to expand throughout Brazil and the international market. We are taking the confidence and speed of our payments to more fans of sports and other betting modalities. Our motto is: We are strong because we pay fast! We pay fast because we are strong."
On why he chose to work together with Control+F5 Gaming, Leonardo Teixeira, the Operation's Commercial Director, comments: "We are a company that seeks excellence in everything we do, from the user experience on our platform to support our bettors".
"When we decided to expand our operations, we knew that we needed the best by our side and we did a lot of research before closing with Control+F5. From the first contact with the Control+F5 team, we were already sure that we would be partners, because in addition to the excellent service, we realized the high degree of technical knowledge they have".
"After all, it is not just a marketing agency, but a marketing agency focused on the sports segment. Having someone who speaks the same language as our company and our customers is very valuable to us. We are very happy with this partnership and with the certainty that the coming years will be very successful".
Control+F5 Gaming specializes in growth strategies for gaming operations
Control+F5 Gaming is a pioneer in the Brazilian market by offering a service hub for game operators who want to operate in the Brazilian gaming sector, with complete safety and success.
The solutions are complete, ranging from planning to the development of the entire necessary operation, for national and international gaming companies.
Control+F5 Gaming's services cover areas such as Training of Professionals specialized in games, 360º Marketing, Customer Service, KYC Compliance, Software Development, Market Consulting, Human Resources, Legal Advice, Administration and Accounting.