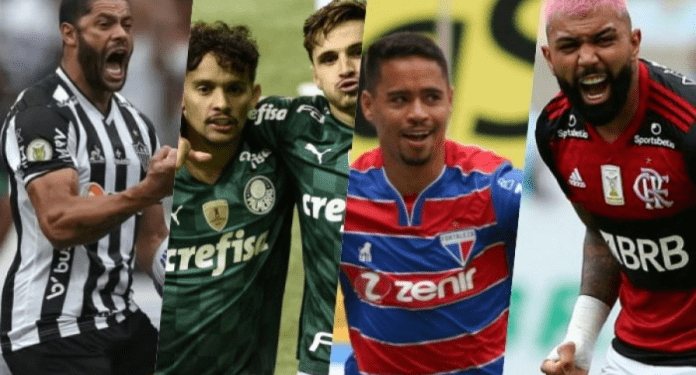 It is not new that the sports betting sector has been growing in recent years, as it is increasingly common to see industry brands stamped on stadiums and on the shirts of the main Brazilian football clubs.
The expressive growth of the segment proves how profitable the national market is, which, despite not being completely regulated, registers great revenues and becomes increasingly visible to the public.
Currently, the sports betting sector is one of the most profitable in terms of volume of brand exposure in sports uniforms, as we can read in the recent publication by Marcondes Brito in the column 'Football Etc' in Metrópoles.
Check out the full sports betting news below.
In 2018, the Ibope Repucom website released an unprecedented survey of global brands (or with continental relevance) that invested in football sponsorship in Latin America, but which, for various reasons, did not do so in Brazil.
Now, in 2022, still under the reconstruction of the impacts of the Covid-19 pandemic, Ibope updated this data in order to compare and analyze any changes and advances.
In a comparison with neighboring countries, it is concluded that 35% of the sponsors of the main Latin American clubs (except Brazil) in 2022 are new and that of the total of sponsors in 2020, 42% of them continued to sponsor the main clubs in the region in 2022.
Among the main clubs in Latin America, the five sectors that currently lead in volume of brand exposure in uniform are: 1st Financial Sector, 2nd Sports Betting, 3rd Automotive, 4th Telecommunications, and 5th Food. Together, they represent 55% of brand appearances on the uniforms of the region's top clubs.
Just as a comparison, among the 20 Serie A clubs of the Brazilian Championship, the five sectors that currently lead in volume of exposure of brands in uniform are: 1st Sports Betting, 2nd Financial Sector, 3rd Real Estate, Construction and Finishing, 4th Health, and 5th Food. Together, they represent 58% of sponsor brand exposures on uniforms.
"In Latin America, the sponsorship potential that clubs offer is notorious, especially when we look at the medium-term horizon, both for brands/sectors and for the sponsorship performance, that is, local or global. Therefore, looking at the entire region helps us understand the peculiarities and trends of each market, as well as identifying new opportunities for sponsors and sponsors", says Arthur Bernardo Neto, director of Ibope Repucom.
The Sports Betting segment was the one that developed the most in the last two years. In comparison with 2020, the sector gained seven positions and currently ranks second among the sectors with the highest volume of brand exposure among the main football clubs in the region. In 2020, sports betting brands accounted for just 19 appearances in uniforms, and today they number 40.