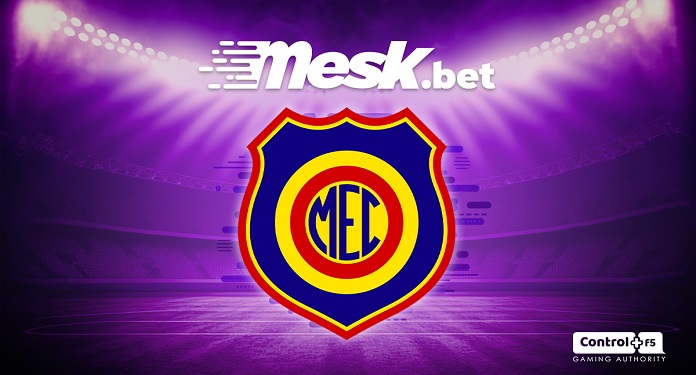 Mesk.bet, bookmaker and online games, closed a new partnership. The site now sponsors one of the most traditional football clubs in Rio de Janeiro, Madureira EC. Players' shirts now feature Mesk.bet prominently, evidencing master support for the team.
The Mesk.bet site is quite complete and offers sports betting in various sports such as football, basketball, volleyball, American football, table tennis and many others. The best leagues and the biggest championships are found, with competitive odds and a wide variety of markets.
The casino is a great differential of the brand before the competition. The house has a powerful portfolio, with exclusive games, which makes the player experience much superior. Meskball X, Quantum X, Goblin Run, Goal Crash are just some of the titles that only Mesk.bet offers.
In addition, Mesk's casino has all the most popular traditional games, the latest releases from the most renowned developers and live casino. In addition, you can find live games, virtual sports, and other gaming options, created by the best providers on the market. The company is regulated and licensed.
The customer will also have access to various bonuses and promotions, so that their experience is even more valuable in terms of fun and benefits. Fast withdrawals, easy payment methods and security are also priorities at Mesk. For any queries, the website support is always available to assist its customers.
History of Madureira
In 1932, traditional traders from RJ led a movement to found a club in Madureira. After many meetings, in 1933 Madureira Atlético Clube was considered founded, on August 8, 1914, which belonged to Fidalgo, the predecessor club.
In order to expand the club's sporting activity, in 1971 Madureira Esporte Clube was created, resulting from the merger between Madureira Atlético Clube, Madureira Tênis Clube and Imperial Basquete Clube.
The club has always been a great talent revealer. Often achieves good results in youth competitions. In 1974, he became champion of Rio de Janeiro in juniors, in 1998 in juniors and in 1997 and 2000 in children.
It brought to the market players like Waldo Machado, Evaristo de Macedo, Jair Rosa Pinto, Lelé, Isaías, Marcelinho Carioca, Iranildo, Souza and Léo Lima. The player Derlei passed through the MEC, who later became champion of the Champions League and Club World Cup with FC Porto.
Currently, the team plays in Série A of the Campeonato Carioca 2023. Mesk.bet prepares much more news related to the club.