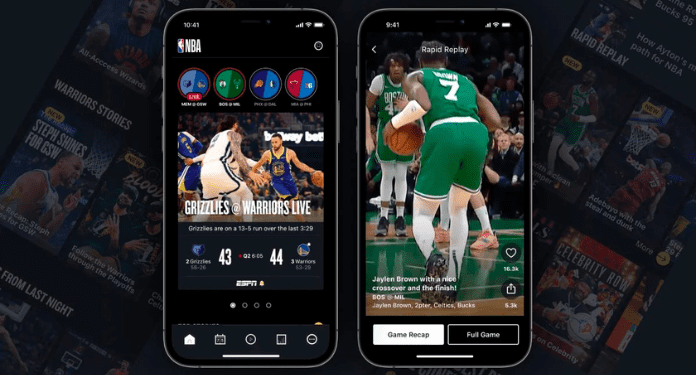 The NBA announced Wednesday the launch of a reimagined global league app, with new customization features, game-by-game content and social media-style vertical videos, among other new features. In addition, the new product embraces sports betting, with a greater focus on this type of content.
The league app – a product of NBA Digital, a joint venture with Turner Sports – is free to download. At the same time, the brand also launched NBA ID, the new global membership program. It will link fan experiences across existing products, including the NBA League Pass and NBA Pick'Em.
The app will be powered by the NBA's new integrated digital platform, which was built in partnership with Microsoft, the league's official cloud and AI partner. It features a redesign similar to that of social media platforms like TikTok, and aims to become the brand's premier online hub for its fans.
Chris Benyarko, NBA Executive Vice President, Direct-to-Consumer, said, "Launching our new NBA app and digital platform is an important milestone as we continue to build and strengthen our direct-to-consumer offerings. deliver a reimagined product that will enhance and personalize the way fans engage with the league on a daily basis."
The app's content will include live programming and social style categories like Gameday Experiences; Lifestyle content series; weekly show "CrunchTime" hosted by Jared Greenberg and produced by NBA TV; and live programming from the NBA League Pass.
External content will include behind-the-scenes stories from the teams' social and digital channels and content from partners including Turner Sports and influencers such as Ben Taylor, Jesser, Kris London and more. But you'll also see content focusing on sports betting from FanDuel, DraftKings, Action Network and more.
Sports betting has become one of the focal points of the new app, and while users will not be able to bet directly, they will still have access to the NBABet stream, which is described as a weekly show focused on providing information about betting on live games.
While the league recognizes in this update the growing role of sports betting, the app also comes with an option to toggle game-related content in an effort not to alienate its audience that isn't interested in betting.
The league's direct-to-consumer subscription offers – NBA League Pass and NBA TV – will also be integrated into the app, giving fans the ability to watch live games and highlights and check scores, stats and standings, all in one place.