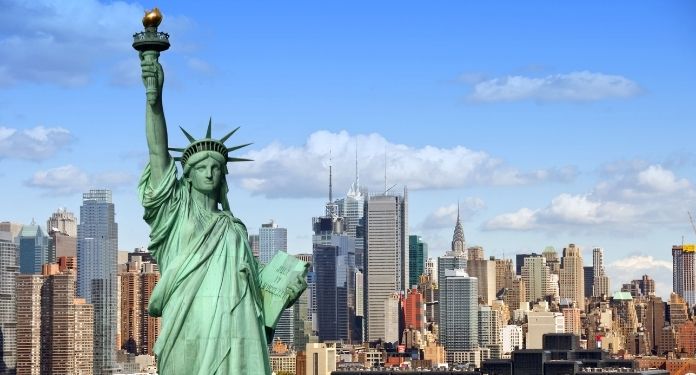 The New York State Gambling Commission has approved four operators to launch the state's online sports betting market on January 8th. The four approved operators are Caesars, DraftKings, FanDuel and Rush Street Interactive (RSI, through the BetRivers brand).
New York's gambling regulator approved online sports betting licenses for nine operators in November 2021 and the other five operators (Bally's, BetMGM, Wynn Interactive, Resorts World and PointsBet) will be able to operate if they meet state requirements once they were conditionally licensed.
Jason Robins, CEO, Co-founder and President of DraftKings, said, "We are thrilled to be able to finally offer millions of New York sports enthusiasts online sports betting on our platforms."
Richard Schwartz, CEO of RSI, also commented, "With the January 10 college football championship games and the NFL playoffs approaching, and the NBA and NHL seasons in full swing, plus countless other sports and entertainment options. bets available to play, fans have endless entertainment at their fingertips at BetRivers."
Of the 32 states that have legalized sports betting in the US, only 18 have also legalized online betting, so legalizing online betting in New York is important to the gaming industry.
The great potential of the online sports betting market
Analysts at Macquarie (an investment banking firm) have suggested that the state's online gambling market will reach $1 billion in annual revenue and annual tax revenue is expected to reach about $500 million by early 2025.
In terms of taxes, sportsbookmakers will pay 51% of gross gaming revenue, which is extremely high for the industry compared to the median US online sportsbook tax rate (about 11%). The only other state with such a high tax rate is New Hampshire, according to Macquarie.
In addition to the taxes, the sports betting platform providers that received licenses had to pay a one-time $25 million licensing fee.
Commenting on the launch of the online sports betting market, New York State Senator Joseph Addabbo said: "Today's announcement by the New York State Gaming Commission that four of the nine licensed online betting operators have been approved to start operations at as of Saturday, January 8, 2022, it's great news for New York in terms of revenue, new funds for education, addiction programs and youth sports, as well as new jobs."