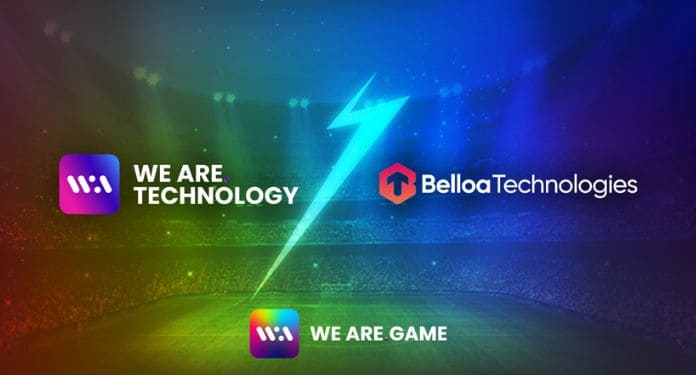 WeAreTechnology Group and BelloaTechnologies are pleased to announce the launch of a new brand offering outstanding global content, software and managed services solutions – WeAreGame.
The WeAreTechnology Group specializes in continued market entry and expansion for operators in emerging markets such as Brazil, India and Africa. Operators can quickly and effortlessly launch their brand or integrate standalone products with their comprehensive solutions, including casino, sports, fantasy, lottery and poker.
BelloaTechnologies has over a decade of experience in the entertainment industry, delivering exceptional sports betting platform solutions. Its cutting-edge offerings power leading sports brands in Latin America, with a rapidly expanding customer base in Brazil.
With this collaboration, WeAreGame brings together the unique strengths of both teams, enabling the creation of super-powered and responsive iGaming solutions. In addition, it features a dynamic platform branded WeAre Platform, which powers several industry-leading names, including the prestigious Brazilian operator Pixbet.
The combined experience accelerates the development of premium content, enhanced services and scalable solutions, setting a new industry benchmark for speed and innovation.
Tim Scoffham, CEO of WeAreTechnology Group, stated: "WeAreGame is well positioned to lead the industry with our powerful and creative iGaming solutions. Our collective team has the knowledge, experience and skill to meet the evolving needs of our global customers and bring WeAreGame to the forefront of the iGaming industry."
O.Gunes Cizmeci, CEO of BelloaTechnologies, commented: "Together, BelloaTechnologies and WeAreTechnology Group redefine industry standards and deliver innovative and exceptional iGaming experiences. The collaboration shows our commitment to providing unique and dynamic iGaming creations."
With this strategic partnership, WeAreGame empowers customers with flexible and customized solutions to propel their business to the forefront of the industry.
About WeAreGame
WeAreGame is a rising star in the iGaming industry, providing operators worldwide with state-of-the-art software, content solutions and managed services. With a strong focus on emerging markets, WeAreGame revolutionizes the online gaming landscape with flexible concepts and innovative creations.