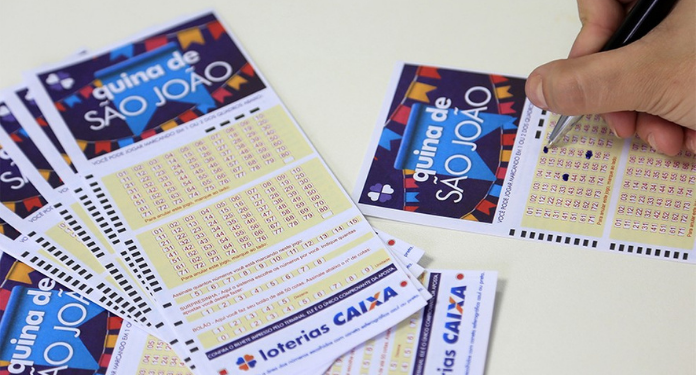 Last Saturday (26) the numbers of Quina de São João were drawn, with a prize of 204.8 million reais, the biggest prize in the history of this draw. In all, 2,143 bets hit the court. Each will receive R$9,276.34.
The numbers drawn were: 25 – 28 – 36 – 60 – 61.
If there is only one winner and the money is invested in savings, it is possible to receive more than R$383,000 per month or purchase 125 luxury apartments, according to Caixa Econômica.
This is the tenth edition of Quina de São João. Last year, five bets divided the R$152 million prize. The digits of the 5590 draw were 25, 28, 36, 60 and 61. Quina's next draw will be this Monday (28). The estimated prize is R$700 thousand.
How to place bets on Quina de São João?
To compete in the next Quina de São João draws, players must go to a lottery or use the electronic means of Lotteries Caixa: application or official website. It is also necessary to choose from five (single bets) to 15 tens.
Currently, a single bet costs 2 reais and a bet with 15 numbers costs around 6 thousand reais. Another possibility to increase the chances of winning is to join the jackpots that have a minimum value of R$ 10.
The odds of hitting the quina
The odds of winning the draw always depend on how many numbers you bet. See the odds below:
5 numbers for R$ 2 – Quina's Odds: 1 on 24,040,016
6 numbers for R$ 12 – Quina's Odds: 1 in 4,006,669
7 numbers for R$ 42 – Quina Odds: 1 in 1,144,763
8 numbers for R$ 112 – Quina's Odds: 1 in 429,286
9 numbers for R$ 252 – Quina's Odds: 1 in 190,794
10 numbers for R$ 504 – Quina's Odds: 1 in 95,396
11 numbers for R$ 924 – Quina Odds: 1 in 52,035
12 numbers for R$ 1,548 – Quina's Odds: 1 in 30,354
13 numbers for R$ 2,574 – Quina's Odds: 1 in 18,679
14 numbers for R$ 4,004 – Quina's Odds: 1 in 12,008
15 numbers for R$ 6,006 – Quina's Odds: 1 in 8,005