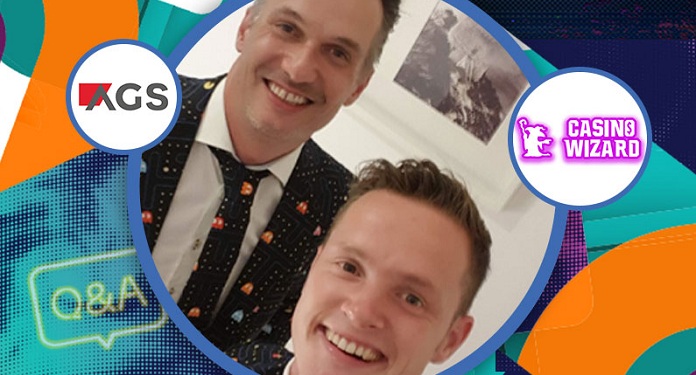 Klaas and Matt, founders of The Casino Wizard, recently interviewed SiGMA Affiliate Grand Slam. The two, along with The Casino Wizard team, prioritize a differentiated approach to SEO and focus on the quality of their content.
The Casino Wizard is an independent guide for players for offering content about online casino games. In the in-depth analytics, visitors will be able to find all the information they need about casinos, bonus offers, as well as the most interesting games available.
However, the platform doesn't recommend a casino unless the team is absolutely convinced it's a great place to gamble some money. Ratings are based on a number of important benchmarks in order to present an overview of the casino gaming experience.
Check out the interview with the founders of The Casino Wizard:
How did you first get into the affiliate business? Have you always focused on the gaming sector?
We started our career in an online marketing agency in the Netherlands. In addition to offering survey and other online marketing services to customers, the company had several affiliate and lead generation concepts that introduced us to the affiliate space.
How did your affiliate business succeeded? Is iGaming your only vertical?
We start our affiliate business in keyword buying and lead generation. As this became increasingly challenging, we decided to switch to iGaming in 2019.
Tell us a little more about your business model.
The Casino Wizard is an independent reviewer and guide to online casinos, casino games and casino bonuses. We partner with online casinos to attract new players through promotional content, search engine optimization and other online marketing activities.
Casino Wizard started with 2 friends, both experienced in online marketing and with an entrepreneurial mindset. We firmly believe that happy, free people do more, so we strive to create an environment where you can work wherever you want, whenever you want. We work hard, trust each other and have a lot of fun together.
What sets your business apart from other affiliates?
Our goal is an SEO approach and we are focusing on the quality of our content rather than buying links and creating PBNs and other things that might be questionable. We are also working with a limited set of online casinos that must meet our quality standards. Our aim is to provide only quality content and quality gaming at only the best online casinos.
What importance do you give to responsible gaming?
At The Casino Wizard, we take care of the players' well-being. The game is fun and should always be fun. We hold the GPWA Seal of Approval and on our website we provide blog content, infographics and guides on how to play responsibly; we give tips, ideas, suggestions and general information about responsible gaming.
What markets do you focus on and do you see any potential in emerging markets?
We are relatively new to the market and are currently focusing on English speaking countries, the German market and the Netherlands. We definitely see potential in other markets like Greece and Thailand, but it's all a matter of time and focus.
Which spots work best for your affiliate marketing and which are the most profitable?
We are focusing on online casinos, casino games and casino bonuses. We don't know if this is the most profitable niche in iGaming, but we're passionate about casino games and we love Vegas. So we made that decision. The most important thing is to be passionate about what you're doing; then comes focus and, last but not least, you need commitment.
Do you create all the marketing material you need to promote internally or do you outsource it?
We are a small company and we work with independent professionals to get things done quickly.
How important is social media activity to your affiliate business? How difficult is it to deal with constant updates from Google?
We feel it is increasingly important to showcase your experience on social media and other platforms as well. Google is especially focusing on results that show real experience, authority and trust.
Are you thinking about attracting investors to expand your business? Or, with such a large M&A market, have you thought about selling the business?
Currently, it is not yet time to think about selling and/or attracting additional investors. We have budgets to scale our business and we still have a lot of fun shaping the company and growing our business on our own.
Some SEO Questions: What are the main SEO challenges today and how are they different from a few years ago?
The biggest challenge today is being seen as a trusted and authoritative source without using blackhat techniques and paying premium prices to change your backlink profile. In SEO, there are no shortcuts anymore and you have to put in blood, sweat and tears to become an authority and be seen as a true expert.
Why is SEO important for games and how long does it take to see results?
Nowadays, everyone is looking for the best casinos, bonuses, slot machines and other genres. If you're not on SERP (Search Engine Results Page), you don't exist. It may take a few days before you see SEO results and in many cases you will never see results. It all depends. As a general rule: everything moves slowly, very slowly.
What qualities and skills are essential in a team / affiliated company?
Online marketing knowledge, persistence and results focused approach.
How does technology play a role in your everyday life?
Everything we do on a daily basis is based on data; we use available software and technology to identify and prioritize opportunities. We do our research on SEO and Google Analytics tools, communicate and collaborate through online tools, and manage and measure our ROI in a personalized dashboard.
What emerging technologies, such as IA and big data, will impact the affiliate industry in 2021 and beyond?
Voice search and social e-commerce will offer many new opportunities for affiliates in the coming years.
How has the fragmentation of regulated markets affected your business? The UKGC, the Swedish regulator and now also the German regulator, are considering regulation of this space.
We lost part of our revenue due to the fact that several casinos asked us to disable (parts of) their content in some of these countries to comply with the tolerance regime.
How can affiliates be more unique in their approach?
They should start by copying less and searching more.
What does it take for an affiliate business to thrive?
Mostly a lot of dedication, persistence and a data-driven approach.
What are your predictions for the future of the industry?
In the iGaming industry, we see a move towards casino games that offer more interactivity and in-game slot capabilities to capture a wider range of players.
How do you choose your operators and how do you manage the relationship with multiple operators?
We review each operator according to our review standards, which you can find on The Casino Wizard homepage. Otherwise, we visit various programs every year to meet the people we work with.
Have you ever been to any SiGMA event? SiGMA Europe, Africa, Asia or the Americas – which of these four exhibition programs would you likely reserve on your 2021 schedule, if COVID-19 allowed it?
Of course! We are planning to visit SiGMA Affiliate Grand Slam and SiGMA Europe in 2021. We are looking forward to meeting some of our friends in the market and opening the door to new business opportunities.
Tell us a little about yourselves – after all, business is done with people, not just companies!
Klaas is a co-founder of The Casino Wizard, responsible for long term strategy and dealing with casinos. He loves playing roulette, blackjack or slot machines and tries to find a casino wherever he goes. In addition, he loves traveling around the world, works abroad a few months a year and practices various sports such as cycling, paddle tennis and gymnastics.
Matt is a co-founder of The Casino Wizard, an expert online casino reviewer and a regular online poker player. His favorite books are Dan Harrington's Harrington on Hold'em, which taught him the basics of poker strategy. Aces. In addition to knowing the iGaming niche, he is also a great cook and web analytics expert.