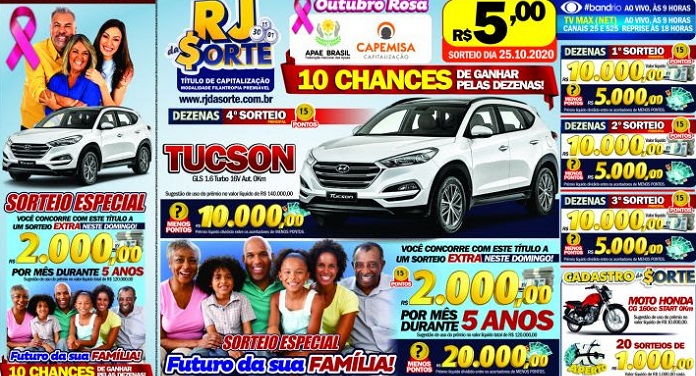 Do you live in Rio de Janeiro and are you feeling lucky? So, your time has come! This Sunday, the 25th, RJ da Sorte will promote the extra contest 'Future of your Family', which will award around R $ 2 thousand a month for five years to one of its customers. This type of drawing is unprecedented in the history of the contest.
The gift, which can guarantee the financial stability of a resident of the Marvelous City for the next 60 months, will be broadcast live on TV Band. All RJ Lucky Draw titles for the October draw will count towards this special action.
In addition, CAPEMISA's capitalization bond supporters still compete for a Tucson 0km SUV, a Honda motorcycle and many other prizes of almost 100 reais in cash. All these possibilities for R $ 5.
Partnership with PicPay
Recently, in addition to being able to purchase through the official website of RJ da Sorte both by credit card and bank slip, the digital title can also be purchased with PicPay credits. A way to make your customer's life easier and faster.
About RJ da Sorte
Therefore, this is considered a capitalization bond in the style of award-winning philanthropy, created by the company CAPEMISA Capitalização, with activity released by the Superintendency of Private Insurance (SUSEP), an agency linked to the Ministry of Economy, which performs the inspection of all securities capitalization operations in operation in the national territory.
In addition, RJ da Sorte is up to date with all the questions requested in the sector's rules, in particular SUSEP Circulars nº 569, 576 and 582/2018, as well as passing on the redemptions to APAE – Brasil, in order to finance projects of the 62 APAEs (Associations of Parents and Friends of the Exceptional) of Rio de Janeiro.