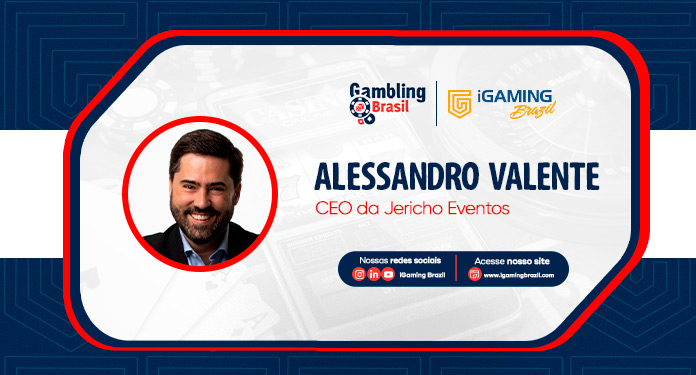 iGaming specialist in Latin America, co-founder of Super Afiliados and CEO of Jericho Eventos, Alessandro Valente, spoke exclusively with the iGaming Brazil portal during Gambling Brasil, an event held alongside Afiliados Brasil last week, in São Paulo.
Valente commented on the main novelties of this year's edition of BiS SiGMA Americas, which will take place from June 14th to 18th, at the Transamerica Expo Center and, at the same time, will feature two other initiatives: Afiliados Latam and Bet Expo.
"Three events in one and it's already a success with sponsors. We have more than 200 exhibitors and sponsors. For the first time we will have an event for the bettor, for the sports trade, which is the Bet Expo, a completely crazy innovation that we managed , through Pedro, create", commented Alessandro Valente.
"It is an opportunity for companies like Bet7k, Aposta Online, Estrelabet and many others, to get closer and bring the bettor a gift, an interactivity that normally does not occur. An opportunity for the gambler to have physical contact with the brand", he added.
Partnership with SiGMA
This third edition will feature all of SiGMA's expertise, further raising the level and grandeur of the event. "SiGMA is a big company, one of the biggest in the world entering a new country for them. We have difficulties in explaining what Brazil is, the cultural differences and why we need to give priority to the Portuguese language. This has been the only difficulty , the rest is wonderful", quoted Valente.
"For us, it was already a very big leap from an event of 1200 square meters to 16 thousand square meters, with SiGMA, we took another pavilion, we will have three pavilions and we went from more than 20 thousand square meters of structure", he added.
Alessandro Valente also designed the future of BiS SiGMA Americas. "It will be the biggest industry event in Latin America. I dare say that next year it will be the biggest on the American continent, beating some others", he concluded.
Check out the full interview with Alessandro Valente