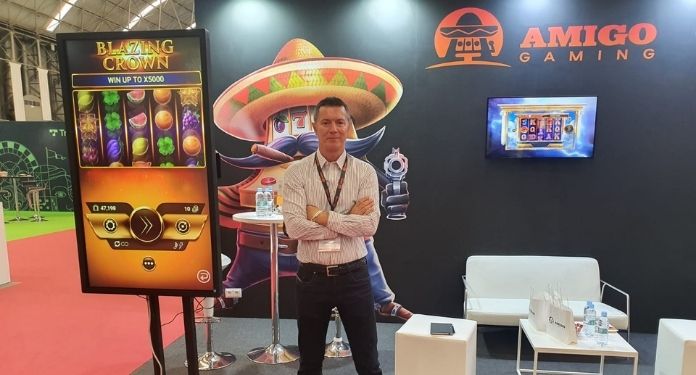 The SBC Summit Barcelona conference and exhibition is where sports betting and iGaming operators, affiliates, vendors and regulators from around the world come together to meet in person, exchange knowledge and ideas, network and do business.
iGaming Brazil is present at the event with international correspondents and held an exclusive interview with Igor Rus, Director of Amigo Gaming. In the interview, Rus comments on how the company has been facing the regulatory processes of gambling in Brazil.
Amigo Gaming is an exclusive online slot games provider in the growing gambling industry, offering game operators and aggregators a wide range of exciting products.
Check out the interview with Igor Rus from Amigo Gaming below
iGaming Brazil: How do you see the betting market in Brazil? Do you believe that the country has the potential to grow with the sport?
Igor Rus: The fact that sport is playing such an important role in the daily lives of Brazilians leads me to believe that the market potential of betting is enormous.
Brazil, with its growing population of over 200 million people with an average age below that of most developed countries, has the potential to become one of the most important jurisdictions in the world.
It all depends a lot on regulation, on how much of this market would be properly treated with optimized taxes, responsible gaming policy and free sports competitions. I can see a bright future for the biggest country in South America.
iGaming Brazil: What is the approach process that Amigo Gaming adopts when launching itself in new markets? Are you already thinking about a specific model for Brazil?
Igor Rus: Our company generally aims to address markets similar to Brazil, where land-based casinos were not allowed, and the only exposure to the game was local lottery games.
Players in these countries tend to prefer certain less complex mathematical models, features and themes that they can relate to in their culture.
We have optimized our portfolio of games with slots that are specifically targeted at player segments in such an environment. Specifically for Brazil, we are looking forward to seeing positive changes to the current legislation.
iGaming Brazil: Can you tell us a little about how Amigo Gaming is getting ready to enter Brazil?
Igor Rus: Amigo Gaming is an online slots provider that is studying the legislative movements in Brazil, so that it is prepared for an early entry into the market.
The conferences are great for meeting people from the gaming industry and exchanging ideas/information on the development of this potentially lucrative market. We have already proactively prepared our games for Brazilian players and operators.