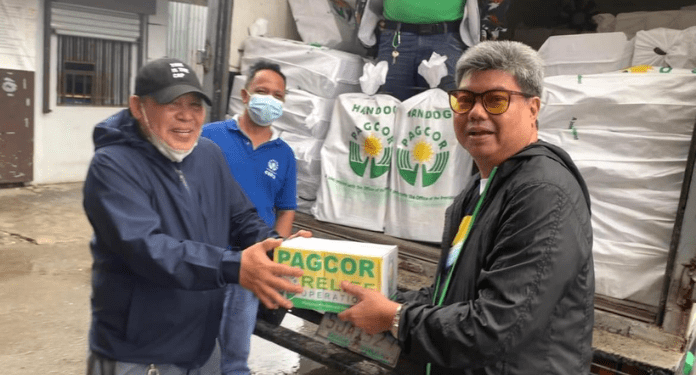 Immediately after strong tropical storm 'Paeng' hit many parts of the country, Philippine Amusement and Gaming Corporation (PAGCOR) helped several local government units (LGUs) that were severely affected by heavy rains and flooding.
A total of 6,350 families from Bulacan Province and San Pedro, Laguna were among the initial beneficiaries of PAGCOR's emergency relief, which contained basic condiments such as rice, coffee and canned goods.
PAGCOR distributed 5,350 humanitarian aid packages on October 31, 2022, in different municipalities in Bulacan. Priorities were given to coastal communities in the province, which were severely affected by the storm. Furthermore, San Pedro, Laguna also received packages from the state gaming company on November 1, 2022.
According to PAGCOR President and CEO Alejandro Tengco, the state gaming and betting agency is also closely coordinating more deliveries to other affected LGUs.
"Just like our rains and flood graves were created to achieve our challenging heavy rain targets. But as many heavy rains would now take to be achieved, we were able to deploy our team and help communities that are serious but scalable.
Tengco added that PAGCOR is doing its best to bring relief to places that were affected by the recent tropical storm. The state gaming agency is closely monitoring the improvement of road conditions in all affected areas so it can conduct more relief operations and continue to commit to its nation-building mission."
In October, PAGCOR also teamed up with its licensed casinos and distributed 17,500 relief packages to the provinces of Aurora, Bataan, Bulacan, Marikina, Nueva Ecija, Pampanga, Quezon City, Quezon Province, Tarlac and Zambales – which were severely affected by the Super Typhoon Karding, during the early hours of September 28 this year..