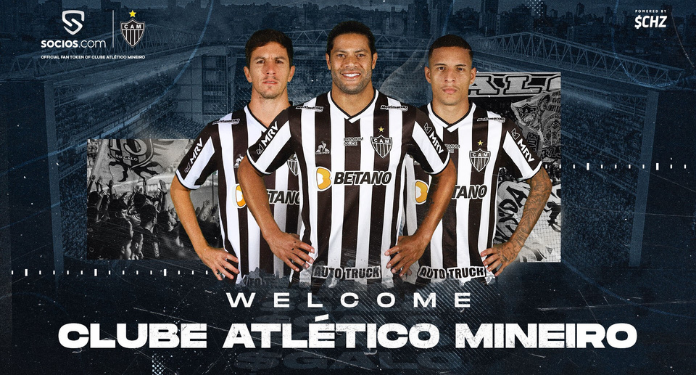 Atlético Mineiro has entered into a partnership with Socios.com, a platform for engaging fans, which issues Fan Tokens to world sports giants such as UFC, Aston Martin Cognizant (F1) and Alfa Romeo Racing Orlen (F1), as well as clubs such as Juventus , Barcelona, ​​Paris Saint Germain, Milan, Manchester City, Atletico Madrid, Rome and Galatasaray, among others.
The initiative, which will also be integrated into Galo na Veia (fan-member program), aims to bring the club closer to fans, who, through the Galo Fan Token ($ GALO), will have a voice, for example, in the choice of name and layout of the Galo bus, among other exclusive polls.
Socios.com was created by Chiliz, a leading provider of blockchain technology to the global sports and entertainment industry.
An unprecedented partnership with high expectations for Atlético Mineiro
Atlético's Business Director, Leandro Figueiredo, says that the agreement with another major global partner such as Socios.com shows, once again, Galo's pioneering spirit.
"We are always looking for ways to get closer to our fans and we are sure that fan tokens will be a great revolution in our relationship with them," he says.
Alexandre Dreyfus, CEO of Chiliz and Socios.com, said that the partnership with a club the size of Atlético represents a big step in the company's expansion plans in Latin America. According to him, Fan Tokens have already generated more than 150 million dollars in revenue for partner organizations in 2021 alone.
"The active participation of fans is vital for the future of the sport and we are very happy to, through Atlético, take this possibility to Brazil, a country recognized worldwide due to its passion for art football", he says.
Fan Tokens are collectible digital assets, coined on the Chiliz blockchain, that provide owners with access to exclusive polls, VIP rewards, exclusive promotions, chat forums, games and competitions on the Socios.com mobile app. Soon, Clube Atlético Mineiro will disclose further details of the partnership and the beginning of token sales.