With three decades of history, SPORTEL took place last week in Monaco, France, in face-to-face format. The event provided the perfect environment for leading sports media and technology players to meet and shape the future of the industry through networking, knowledge exchange and business negotiations.
This year, the iGaming Brazil portal was the only Brazilian correspondent in the betting segment to carry out on-site coverage, bringing information, interviews and exclusive photos. Taking advantage of the opportunity, the Brazilian portal held an exclusive interview with the CEO of SPORTEL, Laurent Puons and his advisor Nick Volante.
With conferences, awards and meetings held around the world, the main event takes place in Monaco, being a mandatory stop for the main brands in the world market. During the interview, Puons reinforced the importance of this year's convention for the industry and the holding of SPORTEL Rendez-Vous in Miami.
Laurent Puons Trajectory
Laurent Puons worked in the Monaco government for five years in managerial positions in various departments. He later served in event management at Monaco Mediax, as Executive Director in organizing a number of international events.
By repositioning IMAGINA (Monte-Carlo Television Festival), Puons gave the event a new dimension by introducing new sectors such as architecture, urbanism, industry and healthcare. In 2012, he became CEO of Monaco Mediax, overseeing seven events.
About Nick Volante
Sales agent Nick Volante also serves as an advisor to SPORTEL CEO Laurent Puons. In addition, he has more than 15 years of trading and marketing experience with global sports properties, media rights buyers and sponsorship brands across Asia Pacific, Europe and the Americas.
Volante also stands out in the segments of sales, marketing and strategies for international sporting conventions, fundraising and distribution of media rights, in addition to helping brands to close partnerships and sponsorships in the sporting scene.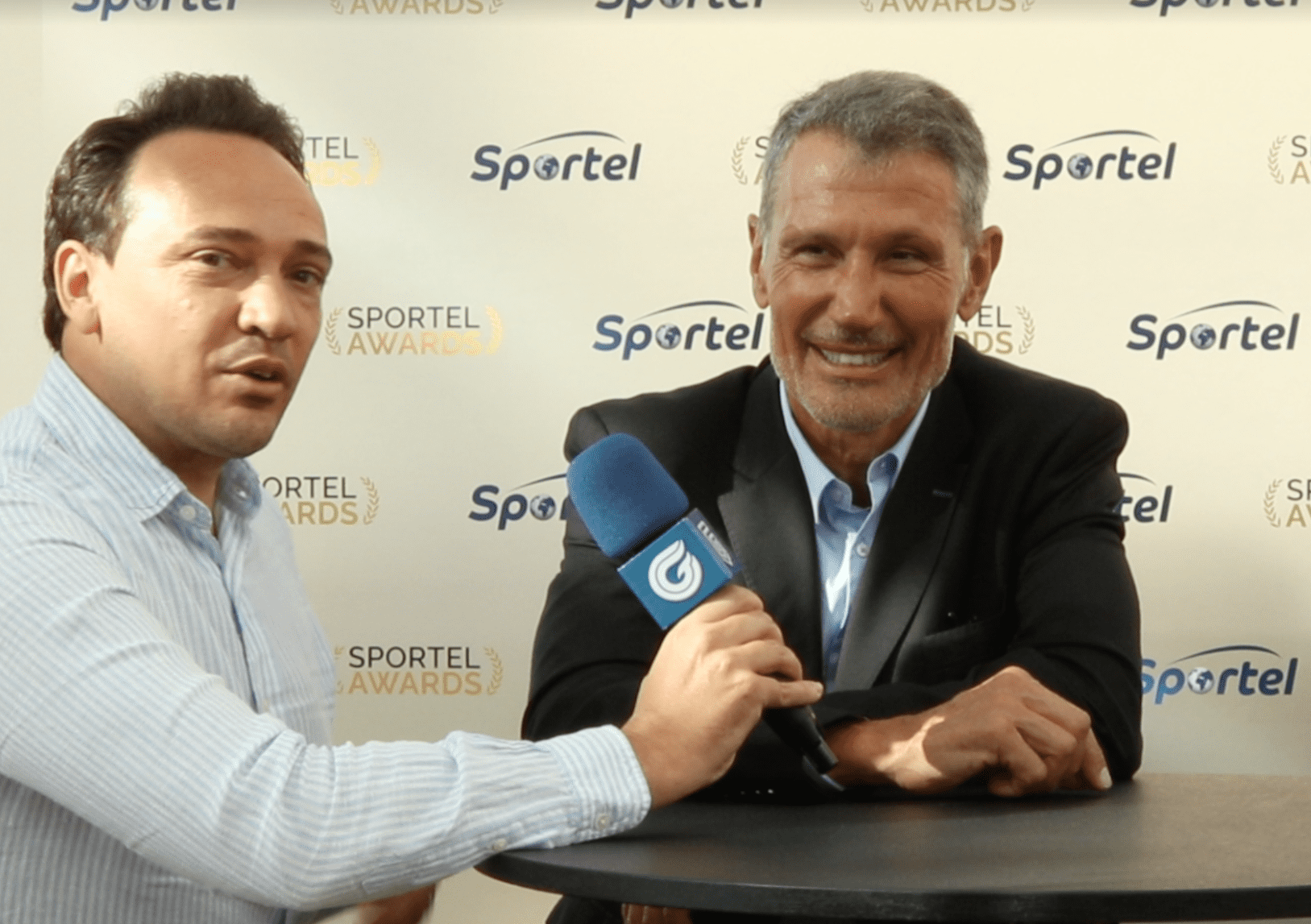 Complete interview with Laurent Puons and Nick Volante at SPORTEL:
iGaming Brazil: Thank you so much for being here with us. I would like to know how it feels to organize an event of this size and how important it is after two years of pandemic. I think we all need more events.
Laurent Puons: Of course, it was very difficult for us to organize this event, as you can imagine. But, month after month, we implement a new marketing, sales and communication strategy. And so we could have it in Monaco.
Of course, compared to 2019 it's not the same size as you might imagine. We have fewer exhibitors, but in terms of dedication it's very international. Participation is very international. We have over 160 new companies.
That means it's an opportunity for our community to do new business with these new companies. Therefore, I can say that I am proud to host the event this year in this condition. Do you want to add something, Nick?e estou orgulhoso de realizar o evento este ano nesta condição. Você quer adicionar algo, Nick?
Nick Volante: I think Laurent was right on target. And ultimately, I think one thing to say is that we're very grateful for the industry's support. We know it was a challenge to make that decision in such uncertain times.
We are very grateful to everyone who made the effort to come here and make this a really successful event, but also a very special event.
We have over 32 years working with sports in Monaco. And this will definitely be considered one of the most special editions. That's sure.
Laurent Puons: We can say that this edition is very qualitative. Yes, it's very qualitative, less quantitative, but very creative.
iGaming Brazil: And which SPORTEL gave you more results compared to Monaco?
Nick Volante: I think to clarify the point, when you say results, what do you mean by that?
iGaming Brazil: We talk about the financial side.
Nick Volante: I think ultimately when it comes to sports, every event, we're not here to talk about the financial resuts.
I mean, the ultimate goal of sport is community and community unity, helping them navigate the industry and ultimately do business. And, of course, sports.
We will have several events, SPORTEL Monaco happens every year. Overall, of course, last year was the first time it had to be canceled because of Covid-19. There was no choice about that.
But again, coming back to that, SPORTEL has been running for over 32 years in Monaco and will continue for another 32 years. We hope so. And SPORTEL Monaco is really the international platform. This is where we bring together all the people from all over the world.
And I think this year, unfortunately, we didn't have much from the Asia-Pacific region and a lot of people wanted to come. Unfortunately, due to travel restrictions, they said, 'Nick and Laurent, we would love to go. We want to book our flights, but if we have to come and then we will have to do two or three weeks of quarantine'. And, that can't be justified.
Laurent Puons: Quarantine is a big problem, as you can imagine. But I repeat, because it is very important. SPORTEL Monaco is the place to be because it is the most important event in the sports business segment.
Nick Volante: I think one last point on that, to focus on our next event, because we are moving forward, we will have SPORTEL Rendez-vous. So we talk about SPORTEL Monaco, which is, of course, the traditional event that has been taking place for 32 years.
And we also have regional events. And these regional events are very important to our community, which for whatever reason, cannot come to Monaco.
And then we're going to next year, we're going to launch SPORTEL Rendez-vous in Miami and in that way, of course, it's specific to the Americas as far as the community is concerned. But, of course, sports are international.
So it's about the communities that are in North and South America, but also bringing the international sports community from Europe, hopefully from Asia if possible.
And it might be interesting to see why we have a lot of what we're taking into account feedback from our community and how we're going to change that and evolve to ensure the event is very different from this event. But still generate a great experience and return on investment.
Laurent Puons: It was very important for us to provide our community with a new format for international events. And as you already know, the border with the United States will be open in early November. So we decided to organize a SPORTEL in Miami in mid-March.
Of course, this event in the US is not the same size as Monaco, but it is very important for SPORTEL to show that we are capable of organizing an event in this city for Americans. And so, the American people can get to know the European Community. It is very important for us to create this business.
iGaming Brazil: And will it be the first time in North America?
Laurent Puons: No, not at all. Miami is a strategic destination for SPORTEL.
Nick Volante: Just to add that SPORTEL América, which was the original event we did in Miami, has been going on for over 20 years.
So that's with our traditional event and what we're doing now, taking into account how the world is today and how business is done, we're going to change the format to make it basically more economical, but also time-effective for everyone. come. We are very excited about this.
iGaming Brazil: Did you have a lot of demand to participate this year in Monaco?
Laurent Puons: Yes, of course I do. And we have a lot of demand to participate in this event, first because our community was very happy to meet face to face. They are not in virtual.
That's why we discussed with many participants, and they are all very happy to be here not only for business reasons, but also because they have the opportunity to see their friends in person. And it was very important that we could see that our freedom is back.
Nick Volante: And also just to add, Monaco is not a bad place to spend a few days.
iGaming Brazil: Absolutely. About SPORTEL Miami, can you talk about the panel there will be on sports betting?
Laurent Puons: So I would just like to remind you that the heart of SPORTEL, Monaco and Miami is the market first, because our priority is to serve our community. And okay, they want to do business.
SPORTEL Monaco, SPORTEL Miami and SPORTEL Singapore in a possible future aim to provide business opportunities for our community. It's our goal. The conference program, I could say, is defined enough for the market.
Then, of course, we will have a conference program in Miami. One of the subjects could be about games or betting, we'll see. But, the heart of the event is the market.
Watch the exclusive interview with Laurent Puons and Nick Volante on SPORTEL