Esportes da Sorte launched its new affiliate program and offers the best remuneration conditions on the market for anyone wishing to become an affiliate in the plans offered. The EDS Affiliate can opt for earnings by CPA (cost per acquisition), RevShare (Revenue Share, or revenue sharing) and also a hybrid model, combining the advantages of both models.
EDS Affiliates have a strong marketing arsenal at their side that guarantees one of the best conversions on the market. Sponsor of programs like BBB23, of influencers like Carlinhos Maia, Deolane and Virginia, in addition to a very strong work in OOH media and other communication channels, the promise is of ease for those who want to represent the brand in the affiliation market.
"The Esportes da Sorte affiliate has a much easier conversion than on other sites. This result is due to our robust investment in marketing. Whether on the biggest television shows (BBB23), on Libertadores da América with Globo, on the main soccer clubs in the country, on the biggest digital influencers or on several other media spread across Brazil, it becomes much easier to convert when your product is seen in everywhere and represented by assets that bring credibility and reliability to the user. No matter where that ad comes from, he's going to want to become a customer of ours. Being so active makes conversion much easier, and more conversion means greater profitability, enabling even greater financial returns for the affiliate. We therefore understand that, for affiliates, we are a market opportunity that is not found anywhere else", analyzes Ícaro Quinteiro, CMO of Esportes da Sorte.
In addition to influencers and programs with a huge audience, Esportes da Sorte sponsors major national football clubs, such as Grêmio, Bahia and Goiás, as well as the Flamengo eSports team.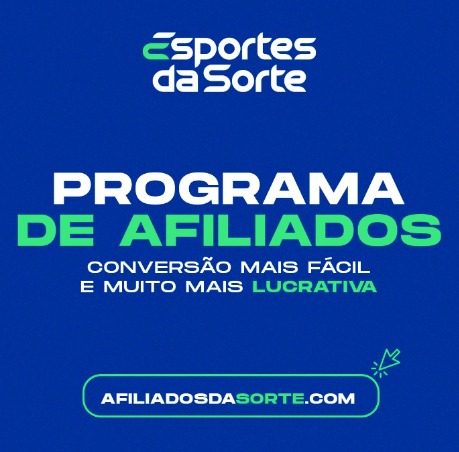 After a period of market study, the company sought to offer remuneration conditions to affiliates that allow better adaptation to the preferences of interested parties and even promised great news that could bring even more benefits to the affiliate.
"We offer both CPA and Revenue Share plans, as well as a hybrid plan, which is rare in the market. The EDS Affiliate finds advantages with Esportes da Sorte that he will not have in other houses. In addition, we are preparing new earning possibilities that will make our affiliates even more excited. It is a win-win partnership for both parties", adds Icaro Quinteiro.
Esportes da Sorte also offers an exclusive panel for affiliates to manage their results and monitor their numbers, a real-time tool containing all information, such as visits, registrations, deposits and commissions. It is still possible to create campaigns and perform specific analyses, whether daily, weekly or monthly.
When registering on the site, the EDS Affiliate receives a media kit with banners, posts, landing pages, images of influencers, partner teams and campaign videos for traffic. All accompanied by a user manual.
Esportes da Sorte is the most popular bookmaker on social networks. On Instagram, for example, it has 895,000 followers, in addition to being the house that has grown the most on the networks in recent years.
About Esportes da Sorte
In football, Esportes da Sorte sponsors nine clubs (Grêmio, ABC, América-RN, Bahia, Goiás, Novorizontino, Guarani-SP, Vila Nova-GO and Londrina), in addition to having some athletes as ambassadors, such as Matheus Cunha and João Gomes, from Wolverhampton-ING, and Rodinei, from Olympiacos-GRE. Recently, it entered into a partnership with Copa São Paulo, Campeonato Paulista and Gaúcho Série A2.
One of the bookmakers that grew the most between 2022 and 2023, Esportes da Sorte already invests in entertainment, with partnerships with actor and digital influencer Carlinhos Maia, with surfer Pedro Scooby, influencer Virginia and singer Zé Felipe. He is also an advertiser in FIFA competitions on Cazé TV, by youtuber Casimiro Miguel.
One of the success points of Esportes da Sorte was the contract to be sponsored in the sports betting segment with one of the main reality shows on Brazilian television, Big Brother Brasil 2023, and will be present in the transmissions until the end of the program, in April. In addition, it entered into a partnership agreement with TV Globo for ads in Copa Libertadores da América games, in addition to digital appearances through ge.globo.