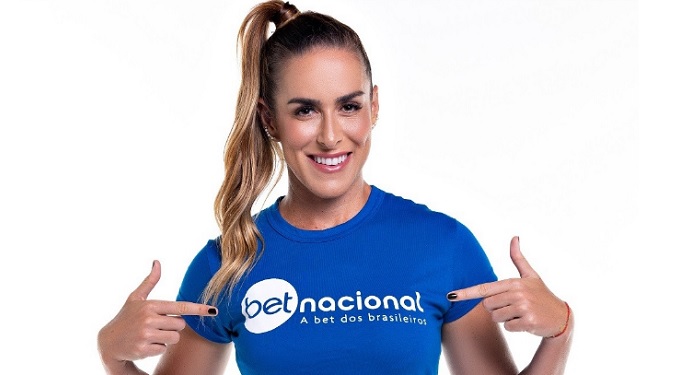 The betting company Betnacional decided to invest in yet another sport by announcing its new brand ambassador. Star of Brazilian footvolley and teqball, Natalia Guitler signed a partnership valid for one year.
The contract includes a series of contents and activations on the athlete's social media, which has almost 2.5 million followers on Instagram alone. The agreement also includes sponsorship of the training center that the athlete has in Barra da Tijuca, west of Rio de Janeiro (RJ), where she teaches footvolley.
"The partnership with Natalia Guitler shows Betnacional's commitment to further encourage the practice of sports, in addition to giving more authority to our brand. The bookmaker market has enormous potential to grow even more, and figures like Natalia help us to follow this path", said Newton de Oliveira Neto, marketing director of the NSX Group, owner of Betnacional.
With a degree in Business Administration and a post-graduate degree in Sports Marketing, Natalia Guitler gained repercussions as a sportswoman. After playing as a professional tennis player from 16 to 21 years old, she became a world reference in footvolley, being champion of the World League of the modality alongside Vanessa Tabarez in 2021, in a competition promoted by World Footvolley.
In addition, she is so far the only female teqball world champion, a title that was also obtained in 2021.
With the agreement with Natalia Guitler, Betnacional further expands the number of ambassadors in the sport. The list also features Vinícius Júnior, Vágner Love, Hernanes, Donizete Pantera, Manoel Tobias, Jean Carlos, Givanildo Oliveira and Sheilla Castro.
About Betnacional
Betnacional operates in the sports betting sector, one of the most profitable in the world, and its differential is to carry out financial operations via PIX in the registered account, guaranteeing speed in transactions. In addition to attractive odds, which provide a unique experience for bettors.
The site is part of Betnacional, which is surpassing the mark of four million customers. The platform has betting markets on various sports, such as football, basketball (NBA) and tennis. There are several options for scheduled and live betting.