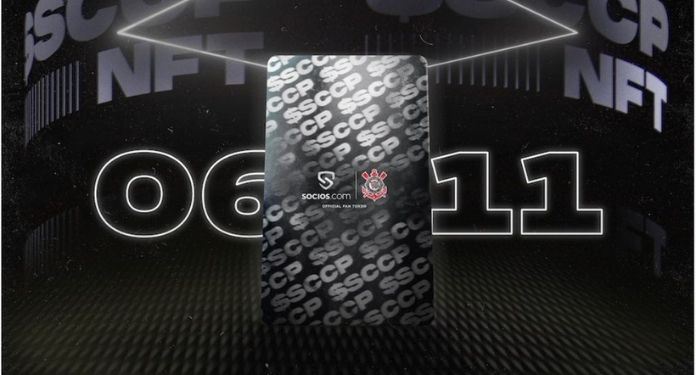 Games designed to run with Non Fungible Tokens (NFTs) aren't exactly new to the market, but their expansion into other strands is impressive, including sports betting sites and football teams.
With an eye on this potential, Sport Club Corinthians Paulista, in partnership with Chiliz — one of the largest companies in the blockchain segment in the world — launched a raffle campaign for NFTs through the website Socios.com.
This app has an area called Predictor (Prever, in Portuguese), a kind of sports betting place where subscribers can make their guesses for the matches, but instead of real money, players must set a Fan amount. Tokens of your heart club.
By getting it right, the player is awarded more tokens, experience points (XP) and unique badges to climb the leaderboard and win prizes.
The launch took place last Saturday (6) and should feature 100 NFTs coined as "limited edition" with moments of the club's performance in matches valid for Serie A of the Brazilian Football Championship.
It is not clear which materials will be eternalized — in general, they are photos and videos — nor which game the files will originate from (the last match was against the Fortaleza team). The tokens will be raffled among players of at least 10 $SCCP Fan Tokens, the club's digital currency.
After receiving the NFT, the fan takes ownership of the file and can do whatever they want with it, including selling in specialized Ethereum markets to earn money.
A new opportunity in sports betting with Socios.com
The expectation is that Corinthians tokens will also offer opportunities in the future to carry out other actions, such as participating in polls, discounts on ticket purchases and even promotional actions to meet players.
According to the president of Corinthians, Duilio Moneiro Alves, this is another step for the club in the partnership with Socios.com, as the team already sells its fan tokens through the platform.
"With digital innovations like NFTs, we seek to increase the engagement of our fans — and, through their differentiated participation, they find yet another way to demonstrate their love for the team in sports betting, making Corinthians stronger on and off the field ", Alves pointed out.