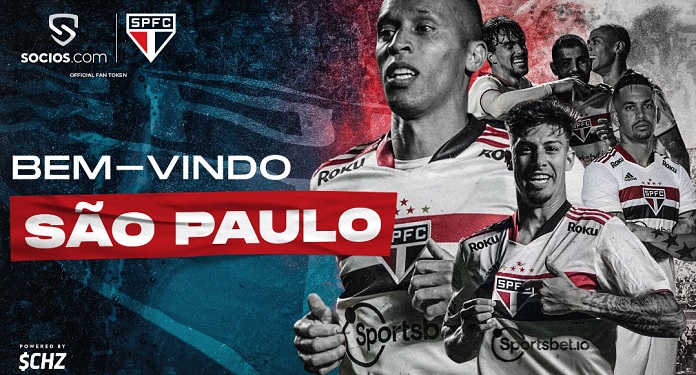 Brazilian soccer teams continue to bet on the Fan Tokens market. After Corinthians, Flamengo and Atlético-MG, São Paulo joined Socios.com to launch its own cryptocurrency. "Welcome, São Paulo FC! A giant of Brazilian and world football that joins the Socios.com family", published the platform's profile.
According to São Paulo, the partnership will last for five years and, unlike what happened with the other three national teams linked to the platform, includes brand exposure on the Tricolor Paulista uniform.
President celebrates agreement to issue São Paulo Fan Tokens
"It is very gratifying to have Socios.com as our partners and, without a doubt, it is further proof that our Tricolor is widely recognized as a global brand," said club president Julio Casares.
Casares added: "Furthermore, São Paulo's entry into an expanding universe is yet another initiative that demonstrates the leading role that we want to return to the club, which, step by step, we will manage to get there."
"São Paulo is a great name in football, not only in Brazil, but throughout the world and it is our privilege to welcome them on board. We can't wait to get started and we are eager to create history with their passionate fans", reinforced Alexandre Dreyfus, CEO of Socios.com.
The terms of contracts with the Socios.com platform are not revealed, however, in most cooperations in the country, teams have half of the amount raised in the sale of Fan Tokens. Corinthians, for example, achieved gross revenue of nearly R$ 10 million in the first round of issuing its cryptoactives.
In addition to Socios, other blockchain sites also develop their fan tokens. One of the platforms that has already announced an expressive success on the national scene is Bitci, which recently launched the tokens of the Brazilian team.
These fan tokens are a type of cryptoactive that grants their holders advantages and rewards, such as access to votes – for example, to select the color of the team bus, music for special moments – experiential, special promotions, among others.