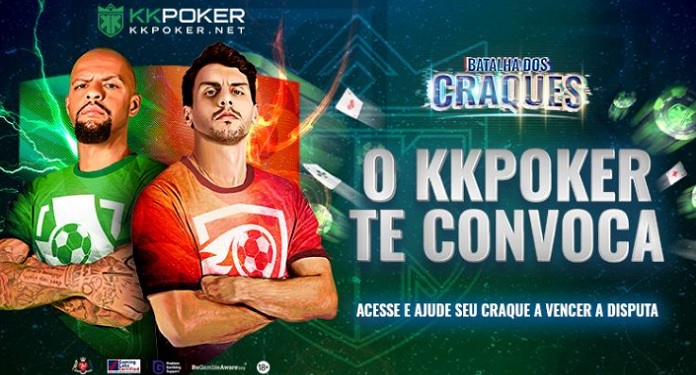 Have you ever thought about participating in an exclusive poker tournament with Felipe Melo and Rodrigo Caio, two of the main players in Brazilian football? And all this in a live Twitch match? This is the experience that the KKPoker platform is providing to its users in the country.
With narration and comments by Victor Marques – the "Galvão Bueno of poker broadcasts", the games will take place on Thursday, 5th, with Felipe Melo and on Friday, 6th, with Rodrigo Caio, from 8pm. In addition to the opportunity to play with football's biggest names, participants will be able to interact with the stars via KKPoker's Twitch chat, submitting questions and participating in sweepstakes.
The last chance to win entry to both competitions with players is playing the "Esquenta dos Craques", buy-in tournaments with only US$ 1 that take place on the 5th and 6th, at 18 pm. each of them will grant 20 places (40 in total). To register for the championships, just download the KKPoker app and search for the "Warm Up" tournaments.
However, playing at the same table as the idols on the pitch is the highlight of the "Battle of the Stars", a campaign that brought all the emotion and rivalry of classic football to KKPoker. Over the course of the promotion, more than 10,000 players entered the platform's competitions and distributed more than US$ 25,000 in prizes, in addition to autographed t-shirts and bonuses for use in the app.
About KKPoker
Online poker platform present in more than 33 countries, KKPoker is offering a new experience for Brazilians. Specializing in mobile poker games, the application has just launched a version for computers, available for Windows. In this way, the platform further increases its performance and positions itself as an important player in the segment.
In the app and in the desktop version of KKPoker, users, mostly recreational players, find numerous advantages such as deposits and withdrawals directly in the app, deposits and withdrawals with cryptocurrencies, daily freerolls, 1st deposit bonuses and free tickets to complete challenges.