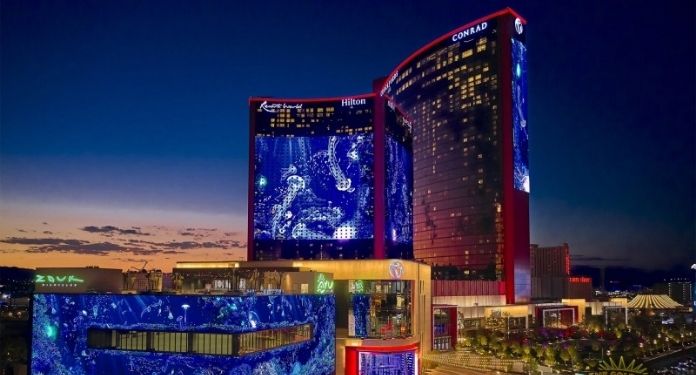 Resorts World Las Vegas (RWLV) has released financial results for its first full quarter of operations since opening on June 24th.
The state-of-the-art casino posted revenue of $175 million and adjusted EBITDA of $27 million, with a number of attractions yet to open.
RWLV is the first integrated resort to be built on the Vegas Strip in more than a decade, combining 3,506 rooms and suites at three hotels, including the Las Vegas Hilton, Conrad Las Vegas and Crockfords Las Vegas. The place boasts more than 40 food and beverage venues, world-class entertainment and next-generation gaming technology.
The performance of Resorts World Las Vegas was partially negatively impacted by Nevada's order to require face masks while in enclosed public spaces, regardless of vaccination status, according to Genting representatives.
The hotel's occupancy rate was 54.9% through the third quarter, as many conventions and social events were canceled "as a result of the order".
The property's revenue came from the casino and a host of amenities, including the Zouk Nightclub, spa, shops and restaurants, all open during the quarter. Additional Retail, Restaurants and Theater at RWLV are scheduled to open in the fourth quarter.
Genting Group revenue was $827.5 million, an increase of 6% compared to the corresponding quarter last year. However, adjusted EBITDA for the period was US$214.1 million, 17% lower compared to 2020.
In his report, Genting said that both its US and UK gaming operations improved, helping to boost revenue during the third quarter.
The company's UK leisure and hospitality businesses saw higher profits due to the reopening of Genting Malaysia Berhad, the group's land-based casinos in the region since mid-May 2021, and the progressive relaxation of Covid-19 restrictions.
Meanwhile, leisure and hospitality businesses in the US and Bahamas posted higher revenue in 2021 versus 2020 primarily due to the "strong operating performance" of Resorts World Casino New York City since the full lifting of restrictions in June, plus contributions from RWLV. The New York location reached revenues that exceeded pre-pandemic levels.
These results were, however, slightly offset by revenue declines in Malaysia and Singapore attributable to Covid-19-related closures and restrictions.
Resorts World Sentosa's revenue and EBITDA declined due to a series of mandates to curb the rise of new community cases, including reducing group size for social gatherings and banning meals in food and beverage establishments.
As a result, the bulk of leisure and hospitality revenue came from operations in the UK and Egypt at $95.9 million, and from businesses in the US at $85.9 million, while in contrast, revenue from Malaysia was just $4.1 million. Malaysia's operations are the usual main source of income for Genting.
However, the group said it was "encouraged" by positive customer reception following the resumption of business at Resorts World Genting since 30 September.
In addition, the Malaysia division announced that work for the SkyWorlds outdoor theme park at the site was planned to be completed "by the end of 2021".