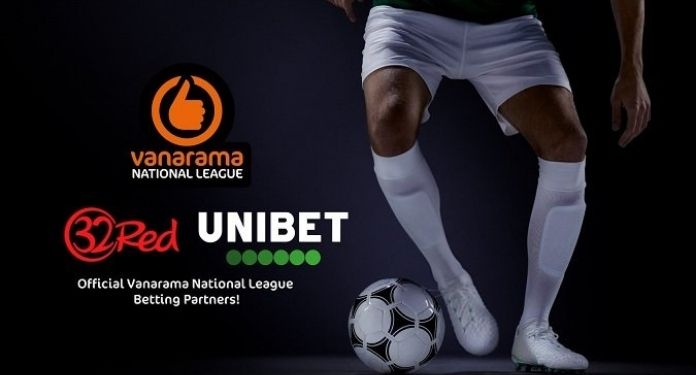 The Vanarama National League has announced 32Red and Unibet as its official betting partners. The partnership was agreed to last 2 years, covering seasons 2021/22 and 2022/23.
Earlier this year Kindred Group – UniBet and 32Red's 'parent company' – became the first betting operator to disclose its share of revenue from 'harmful' gambling.
The brand has since set a goal of achieving zero percent revenue from gambling that can lead to problems for its customers, and will report its numbers by the end of 2023.
UniBet & 32Red – Another big sponsorship for brands
Operating across Europe, 32Red and Unibet have already agreed a wide range of sponsorships within the regional game as well as the international one. The brands will be presented on the competition's digital channels, on match programs and in stadium advertising.
Mark Ives, GM of the National League, said: "The National League is thrilled to welcome Kindred Group's Unibet and 32Red brands as our official betting partner."
"We are excited to be working with an organization that wants to prioritize fan and community projects, beyond game awareness, which is an absolutely perfect moment as we welcome fans back in more numbers than we've been able to in the past few years. 18 or so months".
"This period has been extremely challenging for all of us and that is why we are very welcoming with this partnership for at least the next two years", concludes Ives.
Neil Banbury, GM of Kindred Group, added: "This is an extremely important day for everyone connected with Kindred Group – we are excited and proud to be the official betting partner of the National League."
"Simply put, football outside and inside the league is the lifeblood of our national sport. Elite level can only exist if our base thrives – and we hope our investment will help support that. of course, with his unwavering loyalty," concludes Banbury.