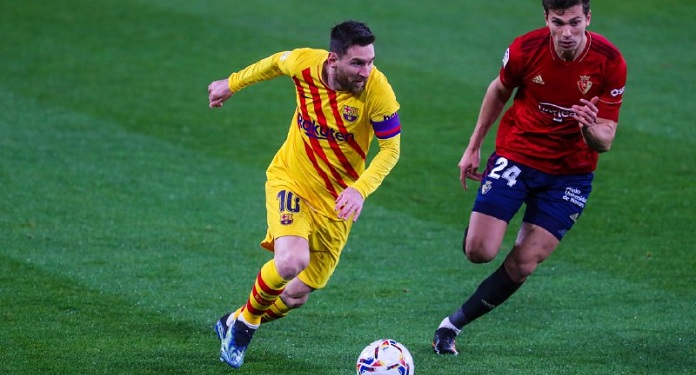 Teams in Spain's two main football divisions suffered a loss of around 2 billion euros in revenue in the 2019/2020 and 2020/2021 seasons, according to a study presented by the consulting firm PricewaterhouseCoopers (PwC).
According to SBC Notícias, the economic report pointed out that soccer teams recorded a drastic decrease in their earnings since March last year due to the worsening of the pandemic. However, PwC pointed out that the wage reductions imposed on players and other actions promoted by the teams helped to minimize losses.
Over the 2019/2020 season, the revenues of the two main divisions of Spanish football have shrunk by $ 366 million, while the current season's loss is expected to be around 1.64 billion euros.
Situation of Spanish clubs may improve with fans returning to stadiums
If the fans were able to return to the stadiums, PwC believes that the losses could be around 825 million euros. On the other hand, if social restraint measures continue in the country, the loss of clubs may exceed 1 billion euros, even more if salaries have returned to normal standards, as planned.
Despite this, La Liga president Javier Tebas said that the report is not a cause for concern and that in the next two weeks the teams may reach an economic level similar to the period before the new coronavirus pandemic.
By pointing out the segments in which teams lost their sources of income, PwC identified that, on game days in the 2019/2020 season, teams had a 17% drop compared to what they used to earn. However, the loss on match days reached 71% this season.
Television revenue also shrank 146 million euros between the two seasons. On the other hand, sponsorships accounted for an increase of 5%, while advertising decreased 13% in 2021/2020 compared to 2018/2019, since the 2019/2020 campaign "had little impact".
Bookmakers Sponsorships
The ban on sponsorship by bookmakers in Spain has sparked a warning to LaLiga because of the financial impact that the new law is bringing to clubs. To this end, the Spanish league contacted the government to try to reverse the situation.
The new regulation, which went into effect in October, includes that advertising for gambling on TV, radio and other video media vehicles be limited to one hour a day between 1 and 5 am. There are also plans to impose a general ban on the use of trademarks in stadiums and, especially, uniforms.