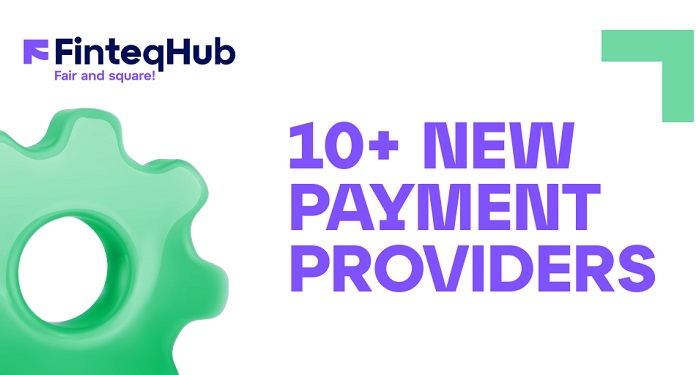 FinteqHub, a trusted provider of PCI DSS certified payment gateway solutions, announces its collaboration with over 10 new providers, enhancing the features and options available to users.
The company provides a comprehensive experience for businesses, constantly expanding its capabilities and enriching its partner portfolio.
Recent platform improvements have covered integration with payment solution providers such as Mandato, ISXPay, Noda, Inpay, payabl. and Viva Wallet.
Operations in other countries
By actively onboarding new partners, FinteqHub ensures the best user experience, serving specific countries and regions such as Germany, Turkey, India, Europe and others.
The latest improvements to the platform also address a wide range of updates to some existing providers, covering tasks such as double-checking country/currency details and adding support for adjustment operations.
Additionally, some back-office features have been introduced to elevate customer service capabilities and comfort. FinteqHub has also implemented a dedicated payments integration service called Walle.
Focus and objective of FinteqHub
Its main focus is to speed up the integration of wallets into FinteqHub, ensuring a continuous and efficient process. Additionally, Walle is committed to providing payment methods that are independent of other merchant functionality, streamlining operations.
Furthermore, it aims to improve the overall quality of the code, contributing to a robust and efficient technological base. Vadim Drozd, CEO of FinteqHub, comments: "FinteqHub empowers businesses to streamline financial transactions and gain comprehensive insights into cash flows.
"Our seamless integration with globally recognized payment methods ensures a smooth payment experience for businesses with a global clientele, spanning card payments, e-wallets, open banking and vouchers across diverse regions, from European countries to Canada, Brazil, Australia, New Zealand, and India", he added.
FinteqHub's presence at SiGMA Europe 2023
Participation in SiGMA Europe 2023 represents an excellent opportunity to present FinteqHub as a payment solution designed to meet the needs of the iGaming sector and beyond.
At booth 2129, together with its trusted partner SOFTSWISS, the FinteqHub team is available to serve the public, providing in-depth information about its comprehensive payment solution.
About SOFTSWISS
SOFTSWISS is an international iGaming company providing ISO 27001 certified software solutions for managing gaming operations.
Furthermore, the team of experts, which has 1,400 employees, is based in Malta, Poland, Georgia and Belarus. Therefore, SOFTSWISS holds a number of gaming licenses and provides complete iGaming software solutions.
The company has a vast portfolio of products, including the Online Casino Platform, Game Aggregator with thousands of casino games, Affilka affiliate platform, Sportsbook Software and Jackpot Aggregator.
In 2013, SOFTSWISS was the first in the world to introduce an online casino solution optimized for Bitcoin.