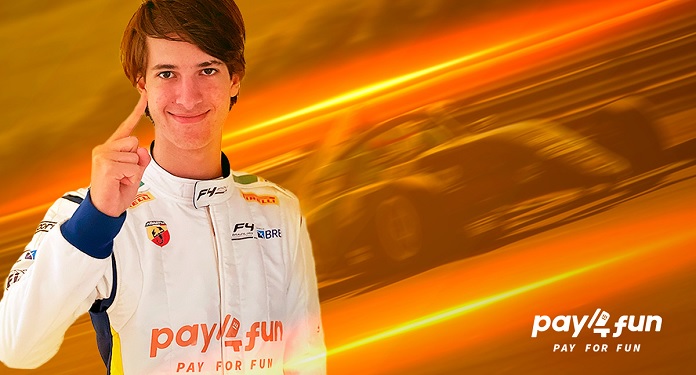 Pay4Fun has just closed another partnership with a sportsman with great potential. Felipe Barrichello, nephew of former Formula 1 driver Rubens Barrichello, is the new brand ambassador. Felipe Barrichello Bartz, 16, known as Pipe, will make his debut in Formula 4 single-seaters. The driver has built a successful career in karting, which began when he was only six years old.
He collects several titles, such as two-time Brazilian Kart champion, champion of the Brazilian Kart Open (both in the Junior category), South American Kart runner-up (Junior) and runner-up of the Florida Winter Tour.
In addition, Felipe is part of the Cavaleiro Sports team, where drivers Vinícius Tessaro, Nicolas Giaffone and João Tesser also compete. Rubens Barrichello's son Fernando Barrichello will also race on the Formula 4 tracks this season.
It should be noted that Formula 4 Brazil is the first step in the country for athletes who want to be in Formula 1 or Formula Indy in the future, without the need to leave so young to live abroad and bear the high costs of racing in the United States or Europe. .
About the partnership with Pay4Fun, Felipe says: "My parents fought a lot to give me this chance to race in Formula 4 this year and I am very happy to be able to debut in the category with four sponsors, who are being fundamental in this important step of the my career. I am very grateful to Pay4Fun and I hope to repay all this support by fighting for the best possible results on the tracks".
Felipe Barrichello symbolizes the values ​​of Pay4Fun
Like Felipe Barrichello, Pay4Fun is a young company that has been growing rapidly. "Encouraging sport is one of our goals here at the company. The trajectory of each of the athletes we sponsor fills our brand with values ​​such as work, technique, dedication, speed and overcoming obstacles that may arise along the way", quoted CEO Leonardo Baptista.
Leonardo added: "That's why Pay4Fun sponsors promising names like Felipe Barrichello. We also support other track champions such as Gabriel Casagrande, Thiago Camilo and Christian Mosimann".
Pay4Fun is an online financial operations platform that facilitates deposits, payments and transfers. Through a simple and intuitive platform, Pay4Fun also provides the sector with differentiated service at all levels.
The group has numerous products and services aimed at both end customers and partners. The list includes: Pay4Fun Card Mastercard, Pay4Fun App, the Pay4Fun Store and Pay4Fun Go, a high-tech payment gateway that provides an easy and efficient way to carry out financial and other transactions.