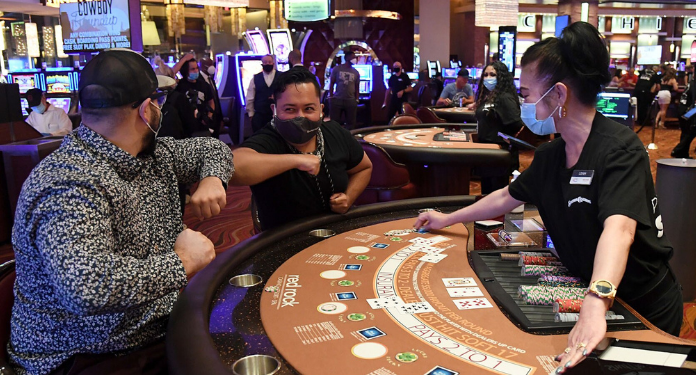 U.S. gaming revenue reached $ 11 billion in the first quarter of 2021, equaling the third quarter of 2019 as the 'highest revenue quarter in the industry', according to an American Gaming Association's (AGA) report.
Total revenue corresponds to a 4% increase over the performance recorded before the pandemic in the first quarter of 2019 and a 17% increase compared to the first quarter of 2020, when the entire gaming industry closed in March due to COVID -19.
The strong revenue figures for the first quarter point to an accelerated recovery, with performance in the first three months of this year growing 21.1% compared to the fourth quarter of 2020. The increase in gaming revenue occurred largely due to the performance of the industry in March, the month with the highest revenue in the history of the North American market.

"The report shows that the resumption of games is well underway. Throughout the pandemic, our industry faced numerous challenges head-on while reopening responsibly and providing a safe and stimulating environment for customers," said the president and CEO of AGA, Bill Miller.
US gambling and betting market statistics
Sports betting revenue for the first quarter of 2021 reached a US record of $ 961 million, an increase of 270% over the same period in 2020 and exceeding the full year 2019 total of $ 909 million.
Driven by the launch of online casinos in January in Michigan, the iGaming sector generated $ 784 million nationwide in the first quarter of this year, tripling the segment's revenue in the United States recorded in the first quarter of 2020.
"The gaming industry is generating these impressive results with a' hand tied behind its back ', as capacity and convenience constraints remain across the country," said Miller.
The AGA president added: "This is a testament to the hard work of game companies to help ensure the safety and well-being of our team members, which has allowed us to reopen safely. We apply these same standards to our customers. , whose demand has been met by our industry responsibly ".
In all, 30 states and the District of Columbia presented operating markets with gambling and betting in the first quarter of 2021, including casino games, sports betting and iGaming.
At the end of the first quarter, 454 (97.8%) of the 464 land based casinos in the USA were open. Although some states have returned to full capacity, most US casinos still operated with capacity restrictions ranging from 25 to 75%.
The restrictive measures related to the casino's capacity and amenities still differ at state and local levels. Therefore, the American Gaming Association continues to monitor and analyze the measures in effect that affect the operation of casinos in each state of the country.
About AGA
The American Gaming Association is the leading national trade group representing the $ 261 billion casino industry, which holds 1.8 million jobs. AGA members include commercial and tribal casino operators, suppliers and other entities affiliated with the gaming industry.