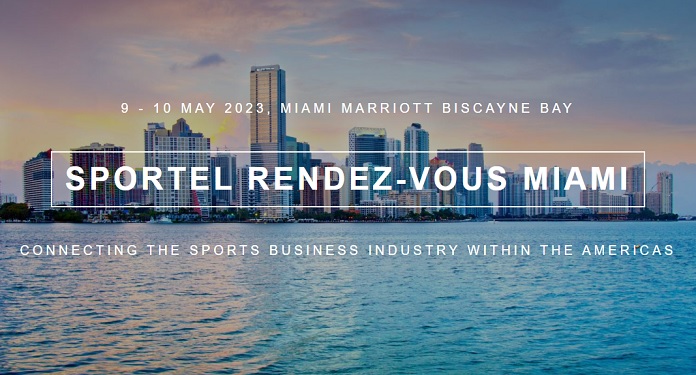 After a sold-out edition in March 2022, featuring a leaner format and new products, SPORTEL Rendez-vous Miami returns to the United States this year.
Taking place from May 9th to 10th, 2023 and heading directly to the Formula 1 Miami Grand Prix, the public will be able to reserve the period to honor the SPORTEL Rendez-Vous Miami at the recently renovated Miami Marriott Biscayne Bay, which underwent a great transformation of 50 million dollars.
The two-day event will welcome decision makers, international media rights holders, TV networks, streaming platforms, sports technology companies and start-ups and the world's leading industry players.
The event is the ideal place to connect and get involved with the SPORTEL family. The meetings will be complemented by a series of innovative conferences and a wide range of sponsorships and networking opportunities.
The public will be able to expand their network of contacts and exchange experiences with executives from global sports companies during the days of the event, as well as hold business meetings and participate in the exhibitor fair.
Check the links with more information to participate and follow all the news of the SPORTEL Rendez-vous Miami 2023:
REGISTRATION: https://www.sportelamerica.com/visit
MORE INFORMATION: https://www.sportelamerica.com/brochure
SCHEDULE: https://www.sportelamerica.com/programme
OFFICIAL WEBSITE: https://www.sportelamerica.com/
LOCATION: Miami Marriott Biscayne Bay (Completely Remodeled!)
DATES: May 9 and 10, 2023
Success of the SPORTEL Rendez-vous Miami 2022
The first SPORTEL Rendez-vous Miami delivered a new concept of a simplified two-day event, offering meetings, information and exhibitions in a more streamlined and easy way, further expanding the SPORTEL experience.
The 2022 edition had expressive numbers that surpassed the two previous editions of SPORTEL in Miami with more than 500 participants from 290 companies, including 80 new companies that had never attended the event before.
In addition, the significant increase in the share of the New Media Sector (17.7% against 10.9% in the 2020 edition), the 150 content buyers and 52.5% of C-Level executives in the sports business proved that the SPORTEL remains active and attentive with new initiatives to consolidate itself as market leader.