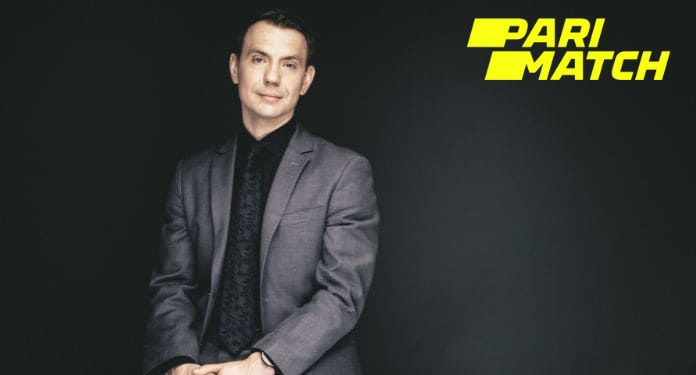 The iGaming Brazil portal interviewed the Marketing and Strategies specialist and eSports consultant for one of the major European sports betting platforms, Parimatch.
Parimatch, an international betting platform, was created in 1994 in Ukraine, based in Limassol, Cyprus, and offers a wide variety of games and bets in eSports and other categories, it also has a website aimed exclusively at the Brazilian market.
In this interview, the Ukrainian Stepan Shulga talks about his work at the company, the current partnerships, the growth of eSports associated with sports betting in the world, and the CS:GO Major, which has just been held in Rio de Janeiro, one of the biggest events in electronic sports in the world.
Check out the interview in full.
iGaming Brazil – Stepan, where are you from and how did you start your career as an esports strategy and marketing specialist?
Stepan Shulga – I am from Ukraine. My eSports career has developed from a combination of lifelong passion and versatile work experience in traditional sports, media and event management. They have laid a solid foundation in terms of my skill set, while a genuine interest in eSports has allowed me to build knowledge and understanding of this industry.
I started my professional eSports career after a long cooperation as a freelancer with a group of enthusiasts and I came from the passion for eSports. The company "Starladder " is a major tournament organizer in the field of eSports, with a successful track of various events organized around the world. I worked as an executive producer there, then moved into eSports consulting, and after a year working as an external consultant for Parimatch, I joined the team to boost their eSports department.

iGaming Brazil – How long have you been the head of esports at Parimatch? What exactly does your work there consist of?
Stepan Shulga – I joined the company in 2019, so it's been more than 3 years. As the head of eSports, I am responsible for everything related to this direction: sustainable growth of eSports as well as other types of sports, strategic contribution, eSports sponsorship, implementation of eSports-related product features, acquisition of a new audience with interests in eSports, marketing, and so on.
iGaming Brazil – How much has the gaming market grown after the Covid 19 pandemic? Do we have the impression that, ironically, this was to his benefit?
Stepan Shulga – The pandemic was a major disruptor for the global gaming market. It helped shed light on entertainment options that were previously considered more "niche" like fantasy sports and of course eSports. As the world has adapted to Covid and offline events have resumed, their demand has returned to pre-pandemic levels, however demand for online entertainment and esports has not diminished much. So yes, the disruptive experience of the pandemic has certainly turned out to be positive for the gaming market.
iGaming Brazil – Could you give a particular opinion about the Brazilian market in relation to the rest of the world?
Stepan Shulga – The Brazilian market is among the most promising in the world. According to data from Delasport, the estimated size of the iGaming market in Brazil is 2.1 billion USD and is expected to grow to 2.6 billion USD by 2026. There is also a very positive and healthy attitude towards gambling as a type of fun leisure activities, as shown by the Grupo Globo survey. Last but not least, with internet penetration of 81% of the population, Brazil offers the greatest potential for online sports betting and casino gaming.
Obviously, this potential can be fully realized or reduced to zero, depending on the conditions of legislative regulation of the sector. That remains to be seen, but hopes are universally high.
iGaming Brazil – Do you believe that our market is losing for not having a sports betting regulation?
Stepan Shulga – It depends a lot on the type of regulation we are talking about. Overly restrictive regulation can stifle the iGaming industry instead of developing its potential, which translates into losses for the country. At the same time, flexible and liberal regulation can provide the necessary set of rules to flourish. I believe that the bold and attractive growth forecasts for the Brazilian iGaming market, which we see from several analysts around the world, are based on the second scenario.
iGaming Brazil – At Parimatch, how were strategies set up now for the World Cup? Will there be news in terms of sponsorships, ambassadors?
Stepan Shulga – The World Cup is one of the most significant events in terms of sports betting, so the basis of Parimatch's brand strategy in this period is to provide the best possible user experience for customers due to increased demand. We ensure that the Parimatch platform as our product is capable of sustaining peak loads and providing users with the same exhilarating experience as ever.
iGaming Brazil – What are your expectations for the next world event you will participate in, the CS:GO Major, which is now taking place in Rio de Janeiro?
Stepan Shulga – Interesting that a new series of events has been announced to take place in Rio. Once a year there will be a big ESL (tournament organizer) championship! It's a sign that Brazil is prepared to have events like this on a regular basis, and of course the main reason is the unbelievable atmosphere that the fans here provide. Interesting detail, only three events in the world have permanent vacancies: Poland (Katowice), Germany (Cologne) and Brazil (Rio) join. Our anticipation is growing as esports share our marketing pie and the compelling results of these efforts.
iGaming Brazil – In Latin America, Parimatch has partnered with the 00Nation group to improve its presence in eSports. What does this association consist of?
Stepan Shulga – This partnership is based on the incredible fighting spirit that unites the Parimatch and 00Nation brands. I'm sure this foundation is a big reason to be excited about this collaboration. Parimatch and 00Nation are planning to launch a series of joint marketing activities to empower and grow the exporting community. The team's players are a perfect mix of legends with big trophies and promising young talents. For us, the spirit of the brand is also important, 00Nation is doing a great job in this direction.
iGaming Brazil – How do you see the growth of eSports associated with sports betting in the world?
Stepan Shulga – Sports betting is a huge opportunity for the growth of eSports, as for any other sport, because sponsorship contracts are one of the most significant revenue lines for the sector, and betting companies are among the biggest spenders . It is undoubtedly a mutually beneficial and also logical partnership: as the number of eSports fans grows, there is more and more willingness to bet on one outcome or the other. These industries have a large common audience, so mutual growth is an expected consequence.