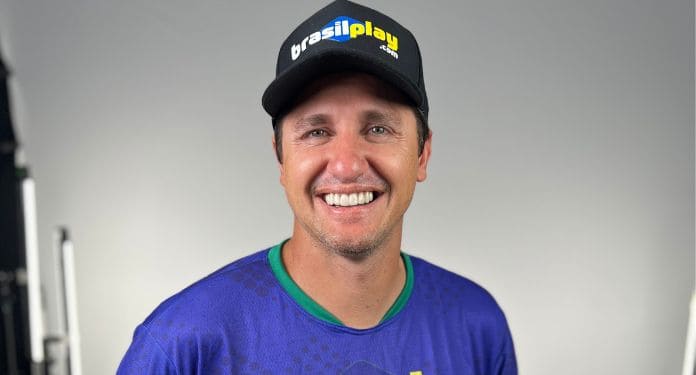 The former defender and defensive midfielder for the Brazilian national team, Edmílson, is the new BrasilPlay ambassador. Currently, the five-time world champion is president of FC Ska Brasil, a club that will also be sponsored by the brand. The contract between the association, manager and the bookmaker was negotiated by the sports marketing agency Wolff Sports, the company that most closes sponsorships in Brazilian sport. In addition to the logo on the uniform, it includes brand activations, relationships and actions on social networks.
Edmílson collected titles as a player, winning the two biggest championships in the sport: the World Cup, in 2002, for Brazil, and the Liga dos Campões, in 2006, playing for Barcelona. He also played for big clubs, such as São Paulo, Palmeiras, Lyon and Villarreal, retiring in 2012. Despite hanging up his boots, the former player never left football, always being a reference on and off the field.
"Ska Brasil has an extremely professional and structured management project, it is an immense joy to materialize this sponsorship, an unprecedented association among the more than one hundred that we have in our portfolio. To close the deal with a golden key, the client will have Edmílson, five-time world champion and one of the great Brazilian players of that 2002 generation, as brand ambassador", comments Fábio Wolff, partner-director of Wolff Sports.
In addition to commenting on national and international games on television, Edmílson trained as a sports manager until he became president of FC Ska Brasil, in 2019, based in Santana do Parnaíba, in the metropolitan region of São Paulo. The club's main mission is to train athletes from under-11 to professional categories, with the aim of placing them on the international market, going through the entire maturation process at the base of the institution.
"As part of our strategy, we are looking for partners who believe in the project and want to leverage their deliveries with the Ska Brasil and Edmílson combo. This values ​​our brands, as well as generating countless possibilities for activations. The synergy between the three is incredible, since the club and sponsor have the word "Brasil" in the name, as well as I have a very strong relationship for being five-time champion", emphasizes Edmílson.
Edmilson will participate in BrasilPlay campaigns
Edmílson's partnership with BrasilPlay includes, among other benefits, the use of the athlete's image in the company's advertising campaigns, presence at events, in addition to his participation in the brand's posts on social networks.
Next season, Ska will stamp the brand on the back of the shirt of the professional and U-20 team, having the label of official sponsor of the team. In addition, there will be a plaque at the Professor Telê Santana Athlete Training Center, activations on social networks and participation of players in events.