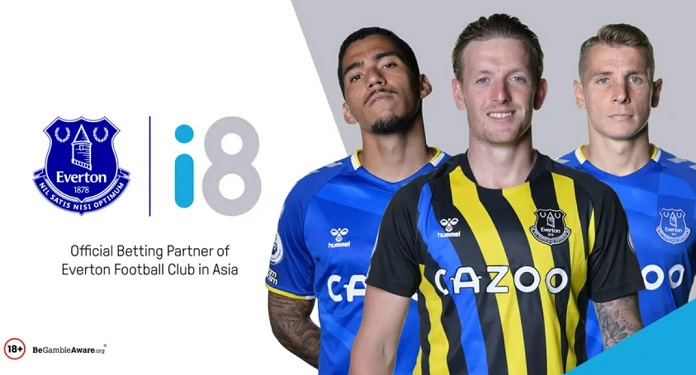 England's Everton Football Club further expanded its portfolio of international partnerships by closing an agreement with betting company i8.BET. The contract will allow i8.BET to become the football team's 'Official Betting Partner' in Asia, as the gaming brand continues to expand its platform in the Asian online betting market.
As part of this cooperation, the i8.BET brand will be visible on match days at Goodison Park Stadium and on Everton's online channels in Asia, subject to age and territory restrictions. The company will also have access to Everton player images for its commercial activities.
The regional agreement is part of Everton's international growth strategy. As this arrangement offers the club a chance to further extend its reach to commercial markets in Asia.
i8.BET executive celebrates deal with Premier League team
Darren Wang, CMO of i8.BET, said: "In line with our global slogan of 'Choose the best', we are excited to be exclusively partnering with an iconic Premier League team like Everton Football Club."
Wang added, "A partnership that will see us work with the club on a range of exciting and innovative initiatives and promotions in major brand territories in support of continued brand expansion and trust-building efforts."
i8.BET will use the Everton name and brand extensively in marketing activations in Asia, where it has a presence in several important and widely populated territories.
Premier League performance at Everton
Despite the off-field deal, Everton are at a lower-than-expected time in the Premier League. The team is only in 14th place with 15 points, coming from a rout suffered by Liverpool by 4-1, at Goodison Park, in the fourth, 1st. The chance of recovery will be on Monday, 6, against Arsenal, again at home.