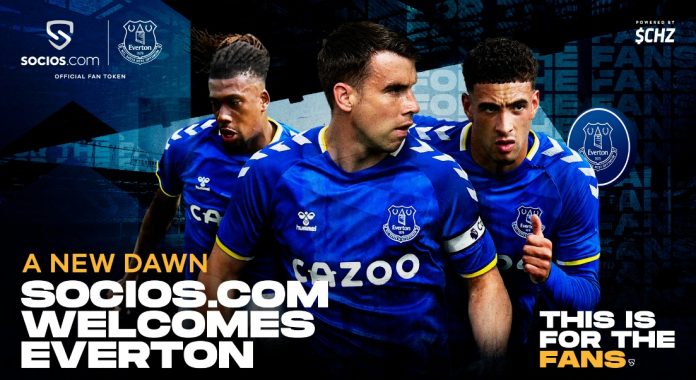 Everton FC, in partnership with Chiliz, one of the leading global blockchain providers for the sports and entertainment industry, has announced that it will launch its own Fan Token on the Socios.com platform. Cryptoactives should be released in the coming weeks.
Fan Tokens are collectible digital assets that will provide new experiences for Everton fans around the world. Engagement opportunities for holders of these assets include participation in several interactive polls throughout the season.
English football club fans will also be able to access special content and experience Socios.com's augmented reality feature 'Token Hunt'.
Socios.com Platform has already closed more than 45 sports partnerships
Nearly 1.3 million fans worldwide have already downloaded the Socios.com app to get closer to their favorite clubs. Currently, around 45 sports organizations have signed partnerships with the platform, such as Barcelona, ​​Paris Saint-Germain, Juventus, Milan, Atlético de Madrid, Manchester City, Inter Milan, Arsenal, teams from Argentina and Portugal.
Alan McTavish, Everton Commercial Director, said: "We are delighted to welcome Socios to the Everton Family into an innovative partnership that will help bring our global fan base even closer to the club they love."
McTavish added: "With Socios, we will launch our Fan Token which will provide supporters around the world with an opportunity to engage with the club in a new and exciting way, including participating in surveys about the club's initiatives."
Alexandre Dreyfus, CEO of Chiliz and Socios.com, said: "Everton is a club with great tradition and a passionate and loyal fan base. It is also a big name in the most followed football league in the world, and a growing fan base. The club is betting on Fan Tokens because it recognizes the importance and huge potential of fan involvement on a global scale."
As such, cryptoactives will allow Everton to become part of a worldwide community of people passionate about a sports organization, where they can enjoy exclusive content, games, competitions and access to rewards and unique experiences.