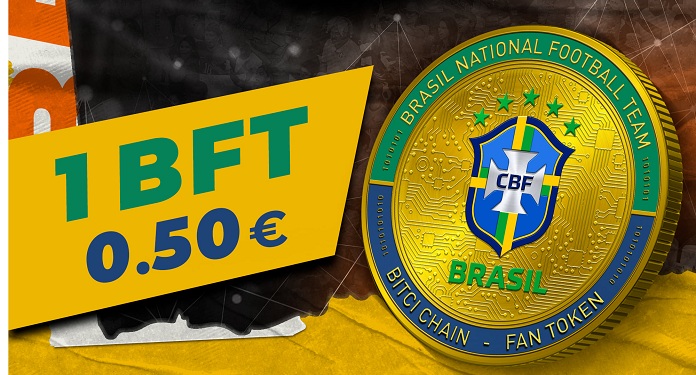 Recently, the Brazilian Football Confederation (CBF) promoted the pre-sale of its cryptoactives. In total, the organization sold 30 million tokens to more than 13,500 people, earning 15 million euros, approximately 91 million reais.
The tokens were issued and pre-ordered by the Turkish company Bitci, which has its own cryptocurrency, bitcicoin, and its own blockchain, where cryptoactives from Brazil and other partners circulate, such as Betis, Rangers, Moto GP, MCLaren from Formula and the Uruguay and Spain teams.
Selection tokens are assets used in exchange for benefits such as exclusive experiences, products, promotions and the like. In the sports segment, this type of token is known as a fan token. In addition to Bitci, another platform in the segment is Socios.com, owned by the crypto-active Chiliz.
This company is also already present in national football and has agreements with Corinthians and Atlético Mineiro. The list of partners also includes giants from Europe, such as PSG, Barcelona, ​​Juventus, Atlético Madrid, Manchester City, Valencia, Inter Milan, Arsenal and teams from Argentina and Portugal. The platform is also linked to teams from the NBA, eSports, cricket and the UFC.
In both cases, token holders can use this digital asset to take part in events, purchase licensed products, participate in polls, sweepstakes and special promotions. For example, these people can help select the club's uniform for the season, the color of the bus, and other issues.
More 70 million selection tokens will be sold
CBF, in turn, has yet to reveal what the specific advantages would be. The pre-sale of the Brazilian team's tokens, which will be traded with the ticker BFT (from "Brazilian Football Team"), lasted only 30 minutes.
During this period, the 30 million tokens provided for this first round were traded for €0.50 each. Those who are still interested in buying these cryptoactives will need to wait until August 25, when another 70 million tokens will be listed by the CBF partner for public trading.