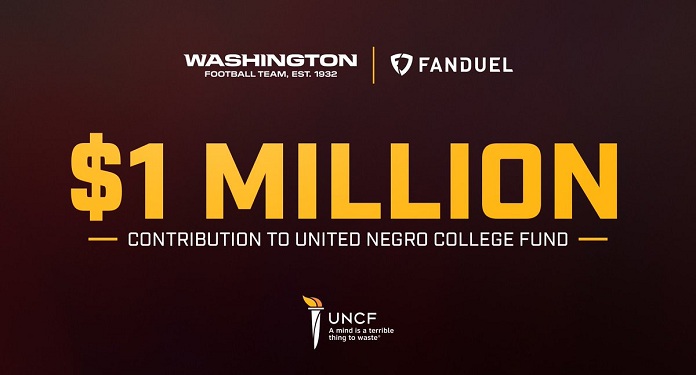 The FanDuel Group and the Washington Football Team, team that disputes the NFL, signed an agreement in the state of Virginia, in the United States, where they will make a donation in the amount of one million dollars to the United Negro College Fund (UNCF).
FanDuel's Student Emergency Support Fund and the Washington Football Team will financially support five historically black universities in the state (HBCUs).
The aim is to offer resources to students who seek assistance in an emergency way to defray expenses with housing, food, technology, tuition and other items related to higher education.
To celebrate Black History Month and support students at these five institutions, the bookmaker and the NFL team are providing this financial contribution as an extension of their legal gambling partnership in the region.
https://twitter.com/FanDuel/status/1364596967687524352
FanDuel projects student aid start in March
UNCF will work with these educational entities to ensure that students in difficulty can be helped at critical times. Matt King, the CEO of FanDuel, commented: "Supporting these institutions and these working students, amid huge challenges related to COVID-19, is the right thing to do".
"As we celebrate Black History Month and recognize the role that HBCUs play in developing the next generation of leaders in business, academia and civic participation. Our hope is that this investment in students will keep them on track to achieve their academic and personal goals. ".
Dan and Tanya Snyder, owners of the Washington Football Team, also spoke out: "These universities have produced some of the most talented and successful individuals in countless professions."
And they added: "This important investment is a way of continuing to foster talent in these large institutions and give today's academics the chance to achieve their professional goals and aspirations".
Michael Lomax, President and CEO of UNCF officially spoke: "The United Negro College Fund is pleased to see FanDuel and the Washington Football Team supporting students across the state, and this investment could not come at a more critical time. Because students face a harsh reality due to an interrupted and disconnected academic year ".
According to FanDuel, the fund is expected to start making a difference as soon as possible. Therefore, students who need some kind of support will be able to consult the financial aid offices of their respective universities as of March.