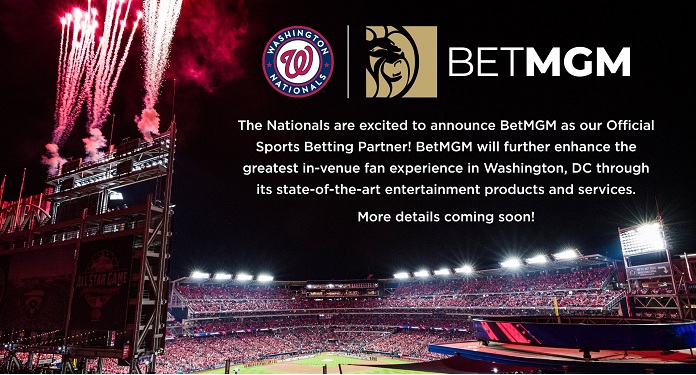 The Major League Baseball (MLB) team, Washington Nationals has entered into a long-term exclusive agreement with BetMGM, the joint venture of MGM Resorts International and Entain.
The partnership will allow the launch of BetMGM's sports betting service linked to Nationals Park and the creation of an app, in addition to campaigns focused on the team's fans.
Alan Gottlieb, COO at Lerner Sports Group, said: "Nationals is excited to expand our strong partnership with MGM Resorts into the sports betting industry. As our official partner, BetMGM will further enhance the fan experience in Washington through state-of-the-art entertainment products and services. "
He added: "The BetMGM mobile app will allow our fans to get involved in the game in new and exciting ways, while the BetMGM betting service connected to Nationals Park will provide fans and the community with a first class venue to celebrate your passion for the sport ".
Details of BetMGM's agreement with the MLB team
As the official betting partner of the baseball league team, the BetMGM brand will be displayed in Nationals Park, as well as on the team's social media and digital platforms. The contract will also allow the creation of exclusive benefits for members of each partner's loyalty program.
"Our partnership with Nationals is the most profound with a sports team and shows the countless ways to engage fans inside and outside the stadiums. We are excited to work together to create unique experiences for Nationals fans and the DC metropolitan area during and after the games, "said BetMGM representative Matt Prevost.
Jorge Perez, president and COO of MGM National Harbor, also spoke on the long-term agreement. "Fans will have the opportunity to enjoy the American pastime in the most innovative and exciting way possible. We are excited to continue to offer world-class entertainment with a long-standing partnership with Washington Nationals. "
BetMGM is operating in 11 states and expects to launch its mobile betting service in Virginia soon, pending regulatory approval only. In addition, MGM Resorts is the official gaming partner for Major League Baseball.