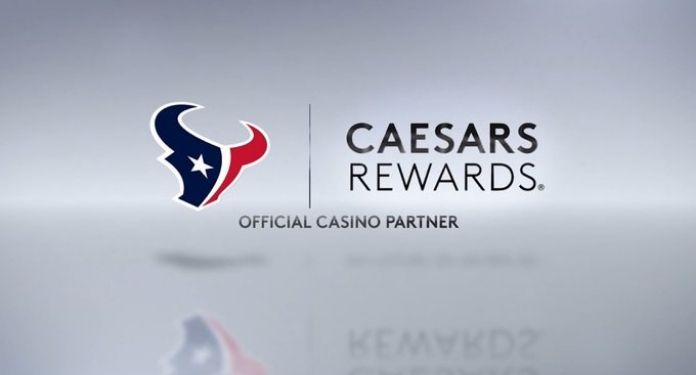 Caesars Entertainment announced a new multi-year partnership with Houston Texans. The deal, which goes into effect just before the start of the NFL season, will make Caesars the official casino partner for the Houston Texans.
"I am delighted to launch this multi-year partnership with Caesars Entertainment. It aligns perfectly with our commitment to creating memorable experiences for our fans," said Texans President Greg Grissom.
"We have some big events lined up for this upcoming season that fans won't want to miss, and this partnership with Caesars is just another example of how we continue to look for ways to improve experiences."
As part of the deal, Caesars Rewards, a customer loyalty program, will sponsor the free "Schedule Pick 'Em" game, which will be featured on the official Texans mobile app.
Additionally, at each game, a season ticket holder will be selected for an all-inclusive trip to Las Vegas. The value and type of trip will increase as Texans score.
"Caesars Entertainment is committed to expanding relationships with professional sports leagues and teams, and we are excited to join Houston Texans," said Chris Holdren, co-president of Caesars Digital.
"We look forward to creating extraordinary experiences for Texans fans and fans by doing what we do best, leveraging Caesars Entertainment's vast portfolio of casinos, hospitality, entertainment and sports experience," he added.
Caesars Rewards members will also have the opportunity to watch Texans inside a luxury suite at NRG Stadium. Caesars is the official sponsor of the casino and an official NFL sportsbook partner, in partnership with the NBA, NHL and MLB.
About Caesars Entertainment
Caesars Entertainment is a US gaming conglomerate that operates approximately 50 casinos and hotels, including some located in Las Vegas. Headquartered in Paradise, the company is considered the largest casino operator in the world.