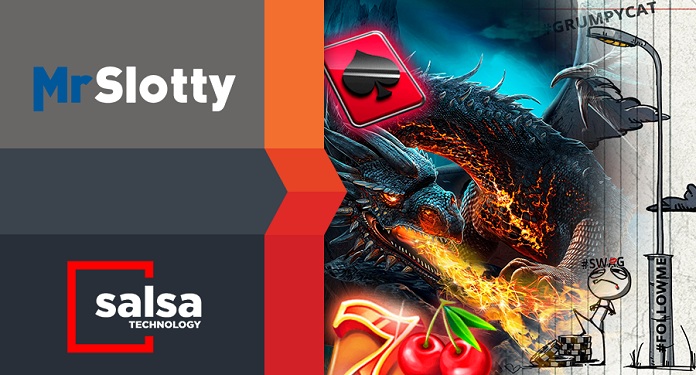 Salsa Technology and MrSlotty signed an ambitious agreement to exchange content. MrSlotty is a top tier slot developer from Lithuania, with a portfolio of over 50 titles.
Therefore, Salsa Technology incorporates MrSlotty's HTML5 and HD video slot catalog in its renowned game aggregation platform (GAP), where each will be available through a single integration. Some of the titles included are the popular WildVegas, Super Dragons Fire and Dracula's Gems.
The partnership will also allow MrSlotty to integrate Salsa Technology's casino content library into its MrSlotty GameHub aggregation platform. Bingo da Cuca, Jogo dos Bichos da Praia and Salsa's opening slot, Pile it Up, will be inserted in the exchange.
"We are always looking to diversify our GAP offering and MrSlotty's entertainment content is right for us. MrSlotty's GameHub gives us a fantastic opportunity to increase the exposure of our games, "said Salsa Technology CEO Peter Nolte.
Anatoliy Peev, MrSlotty's CEO, also spoke officially: "We are excited to add Salsa Technology's strong portfolio of titles to our GameHub and welcome them to our group of partners. Our games will be a great addition to Salsa's GAP, as we seek to expand our reach in the global market ".
About Salsa Technology
Salsa Technology is an iGaming platform that offers its services to online and physical operators, as well as its GAP is gaining more and more space around the world. The group started creating Video Bingo games and is recognized for developing some of the most innovative products.
In addition, Salsa is one of the most prestigious technology developers on the Latin American scene and is gradually expanding its operations, since its platform, technology and games portfolio are laboratory certified for Colombia, Mexico, Asia and Europe.