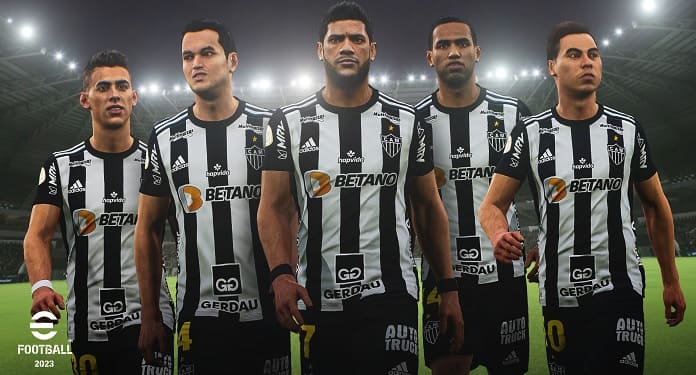 Atlético Mineiro and Konami Digital Entertainment signed a partnership that ensures the digital entertainment company the right to use the brand of the club mineiro for promotional activities of "eFootball". With this, Konami will be able to recreate the main team of Galo and also its future stadium, the Arena MRV, in "eFootball 2023" and in future versions of the video game series.
"We are very pleased to place the new home of Galo, the MRV Arena, which will be inaugurated in 2023, in this important partnership with KONAMI", says Atlético-MG CEO, Bruno Muzzi. He also points out that the project will allow athletic fans and soccer fans from all over the world to interact with the stadium. "In this digital world, this contributes to bringing the Club even closer to younger fans", he adds.
The agreement includes integrated marketing actions and commercial collaboration on and off the pitch. The "eFootball™" brand will feature prominently in Atlético-related content such as press conference backdrops and signs around the training ground.
"Atletico demonstrates how football crosses cultures and generations, and we are proud to be an official sponsor of such an extraordinary team," said Yuta Kose, President of Konami Digital Entertainment, Inc. "The newest chapter in this joint venture will offer new experiences to our fans and allow us to reach new enthusiasts through eFootball", he adds.
Konami and Galo will also work together to carry out eSports initiatives and promote the competitive spirit of the game so that a new generation of fans can interact and support the club.
eFootball 2023
"eFootball™" is a rebranding of Konami's popular "PES" series of games. This modification allowed a great leap forward, as the brand changed along with the addition of a new graphics engine for football games, advances in gameplay and remodeling the title with the "free to play" model on all compatible devices.
About Konami
The Konami Corporation Group was founded in 1973, starting out as a manufacturer of arcade game machines. Over the years, the company has grown and incorporated different business units in various markets. Currently, the group encompasses digital entertainment, entertainment, games and systems and sports businesses.