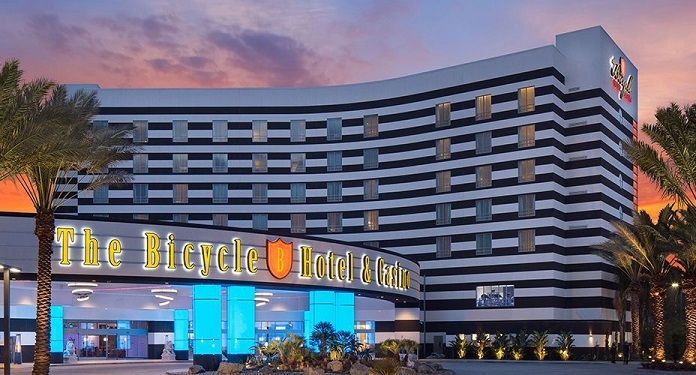 A casino located in California, United States, received a fine of half a million dollars (BRL 2.7 million at current prices) and is being investigated for not having informed the authorities when a gambler brought in nearly 100 million dollars ( R$550 million) in cash for baccarat games.
According to the Daily Mail, this happened throughout 2016 at the Bicycle Hotel & Casino in Los Angeles. The gambler, described as a Chinese citizen, went to the casino a hundred times over the course of eight months.
Federal authorities allege that the gambler bet on ultra-high-limit baccarat games in a VIP room with large amounts of cash that he carried in a backpack to the casino. This man even had an assistant performing in-and-out operations on his behalf, surpassing the $100 million mark.
Casino did not alert local authorities about the moves
According to Yahoo Finance, authorities found that the casino did not record any suspicious activity and reports of financial transactions were improperly made in the name of the assistant rather than the high roller.
Employees of the hotel integrated into the casino informed management of compliance errors in July 2016, resulting in the modification of reports and inclusion of the player name and submission of reports questioning the "suspicious nature of your source of funds".
According to the US Department of Justice, between January and July of the same year, the venture failed to properly record the Chinese player's cash transactions during its 100 visits to the gaming venue.
In one case, the high roller withdrew $2 million (BRL 11 million) from his player account in the afternoon and continued playing until the following morning. Casino staff hasn't even recorded this activity, even though federal law requires casinos to file detailed transactions in excess of $10,000 in cash by any player within 24 hours.
In 2017, authorities intervened at the Bicycle Hotel & Casino to investigate possible money laundering. Last week, federal authorities signed a Non-Prosecution Agreement with the casino charging a fine and improving anti-money laundering mechanisms.
The agreement recognized the casino's efforts to improve its anti-money laundering system, as well as accepting responsibility, collaborating throughout the investigation and agreeing to pay the half-million dollar fine.
Bicycle Hotel & Casino Is Improving Compliance Program
In an interview with MarketWatch, the casino attorney noted that Bicycle Hotel & Casino is focused on "ensuring that all of its compliance and reporting programs are strictly followed and updated as required by laws and regulations".
The facility has also committed to taking an extra review of reporting requirements, with an independent audit and ongoing filing with the US Attorney's Office. However, it is not known whether the player is being investigated.