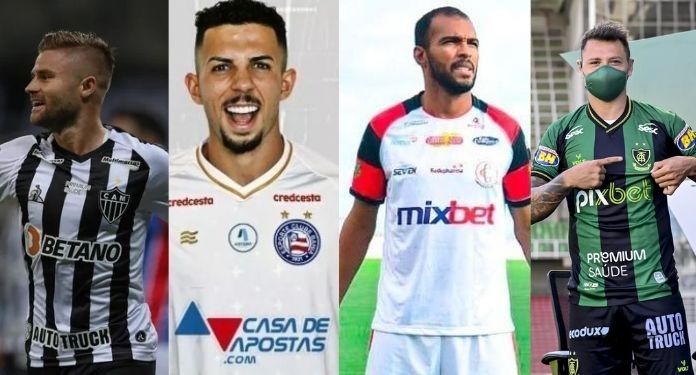 The rise of betting in Brazil ended up taking betting sites to the top of sponsorship of national football teams, breaking the dominance of the financial sector that formerly led the number of master sponsorships.
ESPN published an article about this domain of betting sites, detailing which brands are most active in sponsoring national football.
Check out the article about the betting sites in full below.
This Friday, Ibope Repucom released its annual study on the sponsors of the Série A clubs of the Brazilian Championship, plus Botafogo, Cruzeiro and Vasco – who were in the second division – in 2021. The survey reveals the break in the sector's dominance financial in the noblest spaces of the national teams shirts.
In recent years, banks and finance companies were the segment with the greatest presence in the so-called master sponsorships of the main clubs in Brazil. In 2021, however, this position went to betting sites, which were present in seven different teams, one more in relation to those that stamped brands in the financial sector.
Betano was the only company that sponsored more than one team, appearing in the prime space of the uniform of the Brazilian champion Atlético-MG and also of Fluminense. They also had partnership with betting companies on the front of the shirt, São Paulo (Sportsbet.io), Sport (Galera.bet), América-MG (Pixbet), Atlético-GO (Amuletobet) and Bahia (Casa de Apostas
Dominant in the master sponsors, betting companies were the fifth most present segment in the general survey of brands, with a presence also in other properties of the clubs' uniforms. A total of 11 companies invested in national football – in this regard, the real estate, construction and finishing segment was the leader, with 30 partner companies of at least one team.
Companies in the financial sector, which led among the master sponsors in recent years, were present in six uniforms in 2021: Grêmio, Internacional, Youth (all with Banrisul), Flamengo (BRB), Palmeiras (Crefisa) and Santos (Sum Up ).
Overall, financial brands ranked second in the number of different companies sponsoring clubs, with 20, spread across 39 different deals. Health service companies, also with 20, tied with financial companies in this regard.
In terms of the total volume of sponsorships, the year 2021 had the best number in recent years, with 172 brands present in the uniforms, a growth of 19% compared to 2022, when there were 145.
"The year 2021 was more than the year of resumption of the calendar and of a certain normality, it was also a period of resumption of optimism and great perspectives. lead in volume of brands and contracts the master sponsorships in Serie A", analyzed Arthur Bernardo Neto, Head of Ibope Repucom.