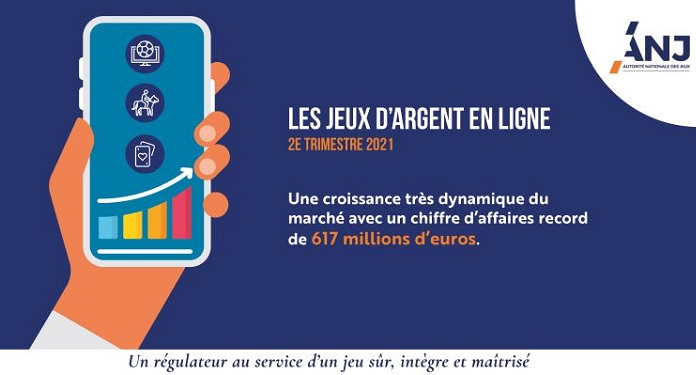 Publishing its market update for the second quarter of 2021, L'Autorité Nationale des Jeux (ANJ) – the gaming and sports betting regulatory agency in France – registered 3.3 million online gaming fan accounts during the 1st period. April to June 30 – about 260,000 accounts above the results of the previous quarter.
The market growth was attributed to French bookmakers that maintained their "maximum performance" with bets in the period of €2.15 billion, with the French market posting record consecutive quarterly results this year.
French sports betting posted a combined turnover of €420 million, serving a total player account of 2.8 million, an increase of 12% from the previous quarter.
Euro and Roland Garros boosted sports betting in France
In addition, ANJ noted that the sports betting turnover nearly doubled from the 2019 "pre-COVID results" of €214 million.
"The particularly attractive quarterly calendar, featuring the Euro Cup and the Grand Slam by Roland Garros, had an undeniable impact on practice and recruiting new players. In fact, the bets on these competitions represented 22% of the activity in the quarter", pointed out the ANJ report.
While French horse racing kept its progress towards its "pre-COVID results", registering a turnover of €95 million generated from total bets of €400 million (+11%), with 360,000 players online placing bets on racing events.
Meanwhile, online poker saw a 27% drop in revenue to €103 million, which the ANJ attributed to France easing its "heavy winter lockdown restrictions." However, by registering 900,000 accounts, French poker keeps player participation well above its pre-COVID results.
Conclusions of the ANJ report
The ANJ concluded its report by noting that it had started its review of French gambling advertising standards, to which licensed online operators must submit their activity bulletins.
"In the sports betting segment, the turnover reached another record this quarter. This growth attests that the French model, although heavily supervised, is not an obstacle. However, he questions us about the social issues that these new uses come to present", said the president of the ANJ, Isabelle Falque-Pierrotin.
The executive concluded: "This is the case, in particular, of advertising, a topic on which ANJ is currently consulting with a view to promoting a rebalancing of the practices of the operators. Finally, under the leadership of the ANJ and in collaboration with other administrative or judicial institutions, toxic supplies have been severely combated in recent months."