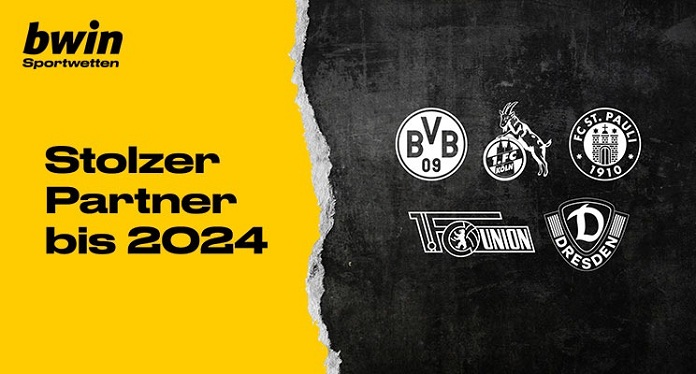 Sports bookmaker bwin, part of the Entain betting and gaming group, has extended its partnerships in German professional football for another three years. The agreements reflect Entain's commitment to incorporating its brands into prominent sporting events that provide entertainment for customers.
In addition to sponsoring top clubs, the brand also played a leading role in supporting regional organizations as well as young athletes. Stephan Heilmann, Director of Digital Europe Entain, said: "It is a great honor for us to continue our long-standing partnerships with these traditional clubs."
Club Officers Celebrate Renewal of Partnerships
Carsten Cramer, Executive Director of Borussia Dortmund, said: "We would like to thank bwin for their trust in us. We still believe the two brands are an excellent combination. This cooperation is a logical consequence of the previous partnership."
Alexander Wehrle, Director of Colonia, stated: "We are delighted to have a strong brand as a betting partner by our side for the next three years. Our fans have identified with the brand and we will continue on this successful path together."
Bernd von Geldern, FC St. Pauli Sales Manager, pointed out: "We have recognized bwin as a reliable partner for the past three years and we are very happy to be able to continue together for the long term. Now we are looking forward to the coming seasons with great projects." .
Thomas Stäpke, Director of Finance and Sales at 1. FC Union Berlin, stated: "We are delighted to be following along with bwin and receiving attractive offers on match days. The company has been a leading provider of betting in the digital world for years ".
Jürgen Wehlend, Managing Director of Dynamo Dresden, noted: "Especially in the present times, the extension of the contract with bwin for another three years is a strong sign of the success of many joint actions in the past and we expect much more in the future."
About bwin
Bwin is one of Entain's leading sports betting brands. The group has a broad portfolio of established brands, including Bet.pt, Coral, Crystalbet, Eurobet, Ladbrokes, Neds and Sportingbet.
The group has proprietary technology for all of its main products and, in addition to its B2C business, offers services to various third-party clients on a B2B basis. The company has also entered into a joint venture with MGM Resorts to take advantage of the betting and gaming offer in the United States through BetMGM.
Entain supplies the technology that powers BetMGM, as well as games and products developed in the company's own studios. Through the Entain Foundation, the group supports a range of initiatives that focus on responsible gaming, grassroots sports, technology sector diversity and community projects.