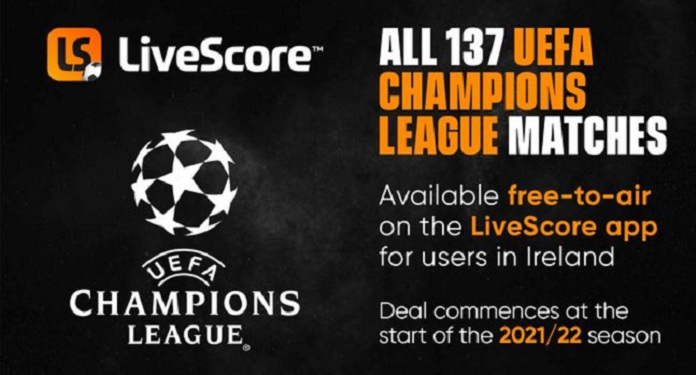 LiveScore, the global sports media business and a leading provider of live streaming services and sports updates, has announced a three-year agreement for rights within Ireland to stream 137 European Champions League matches live for free in the app.
Over the term of the three-year deal, starting at the start of the 2021-22 season, LiveScore will be the exclusive broadcaster for 104 matches of the European competition in Ireland. The remaining 33 matches, including the Champions League final, will also be broadcast live, but without exclusivity.
The historic agreement guarantees that football fans in Ireland will be able to watch all matches in the competition on a completely free platform, through the LiveScore app for iOS and Android. The Irish will be able to check out matches on their mobile phones or tablets, with the added option of 'broadcasting' the action to their TV screens.
The hit is the latest boost for Irish football fans, less than a year since LiveScore successfully introduced football live screenings into its app. By the end of the current season, 1,250 matches in 15 different leagues and tournaments will be aired across the country, including over 300 league games alone.
Since October last year, the platform has also shown one Premier League game per round for free to app users in Nigeria. In addition to live match coverage, the company's latest acquisition of rights in partnership with SARAN Media Group results in significant additional content such as match highlights.
LiveScore purchased rights package includes UEFA Super Cup
In addition to the 137 Champions League matches, the package also includes the UEFA Super Cup broadcast. Ric Leask, Director of Marketing at LiveScore, said: "We are extremely excited to announce this new rights deal, which will provide live coverage of all Champions League matches in Ireland to football fans in Ireland at no cost."
Leask added, "We look forward to being present at every stage of the season as we bring our users closer to the action with our full offering of live-streamed games and supporting content."
Guy-Laurent Epstein, UEFA's marketing director, said: "UEFA is delighted to welcome LiveScore as the new broadcaster holding the rights to the Champions League in the Republic of Ireland."
Epstein concluded: "We are excited to see the innovative coverage it will provide and to bring Irish fans free of charge to the best of European club football."