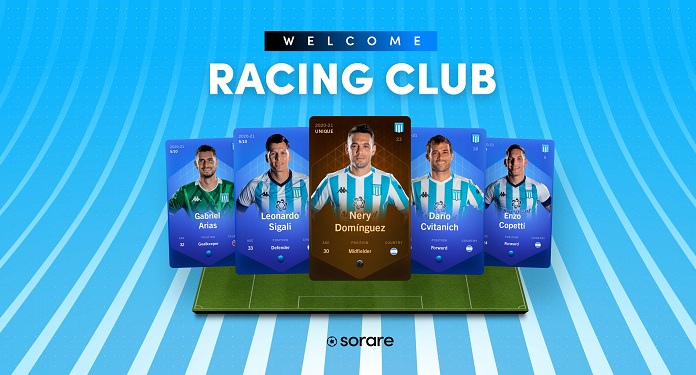 Racing, the club that disputes the Argentine first division, closed a deal with the fantasy football company Sorare. The aim is to expand the entertainment possibilities offered to its fans.
The brands will launch a collection of NFTS (tokens) for the male cast. Thus, the image of the Argentine club will join the actions already promoted with Bayern Munich, PSG, Juventus and Real Madrid. All of these giant clubs in Europe are already part of the platform's digital assets market.
"Now it's Racing's turn, which enters the Global Fantasy Football Sorare game. Thus, you can collect, assemble teams and, depending on the performance in the game, earn rewards every week. In addition, with the simple online registration, it is possible to obtain ten free cards from players from the Academy to fully immerse themselves in this global game ", stated in a statement from the club.
Racing President Victor Blanco also officially spoke after the partnership was formalized. "We are proud that Racing is joining the clubs that participate in the Sorare platform because, in this way, we have consolidated the Racing Brand to reach the whole world," he said.
Nowadays, Sorare's offers already reach more than 110 thousand active players per month, in 130 countries and present "a huge relevance of Argentine users". The company reported that the Argentine public ranks second in the global ranking based on the time of use of the platform.
https://twitter.com/SorareHQ/status/1387773248356618244
Sorare CEO celebrates agreement with the Argentine club
"We are happy that the legendary Racing Club has joined Sorare to allow fans from around the world to connect with their players for years to come," said Nicolás Julia, Sorare's CEO.
The platform allows the player to "assemble teams, choose athletes, generate exchanges on a global scale and expand borders, always with a connection between the real and the virtual (the score of each card depends on the specific performance of the football player)".
"It is clear: with this strategic alliance, Racing confirms that it participates in the major leagues," concluded the note issued by the club.