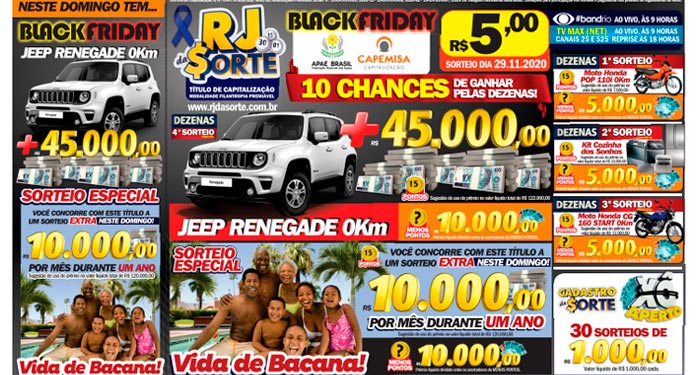 Research by the company Conversion pointed out that Black Friday 2020 will be bigger than last year. The intention to buy products increased among consumers: in 2019, 84.6% of Brazilians purchased goods and gifts and, in 2020, the expectation is that this number will rise to 90.4%.
The majority (83.7%) said they want to take advantage of the date for Christmas shopping. So, how about guaranteeing a Jeep Renegade 0km and another R $ 45 thousand in the trunk, two Honda motorcycles and, as a special prize, guaranteeing a 'Nice Life' with the peace of mind of having R $ 10,000 per month for the period of one year?
This is possible because this Sunday (29th) RJ DA SORTE®, CAPEMISA's capitalization title, prepared a special draw there. Everyone who bought the title throughout this month of November will be competing. It is for everyone to be able to make all kinds of plans: get out of rent, invest in a business, buy a car and even repeat the example of Arinalva and pay the debts. And all this for only R $ 5.
In addition to these special prizes, there will be raffles of R $ 35,000 in cash, a 'Kitchen of Dreams' kit with refrigerator, stove, washing machine, dishwasher and microwave. In the 'Lucky Register', there will be 30 draws of R ﹩ 1,000; for those who register the title on the website and application, or buy online until 11/28.
The draw will be live, starting at 9am this Sunday (29/11) on TV Band.
Partnership with PicPay
Now, in addition to being able to make a purchase through the website by credit card and bank slip, the digital title RJ DA SORTE® from CAPEMISA Capitalização can be paid with credits on PicPay.
RJ DA SORTE®
It is a premium philanthropy capitalization bond, developed by CAPEMISA Capitalização, with an operation authorized by the Superintendence of Private Insurance (SUSEP), an agency linked to the Ministry of Economy, which oversees capitalization bonds throughout Brazil.
RJ DA SORTE® meets all the requirements required by sectorial regulations, in particular SUSEP Circulars No. 569, 576 and 582/2018 and is intended for redemptions to APAE – Brazil, to finance projects for the 62 APAEs in Rio de Janeiro.