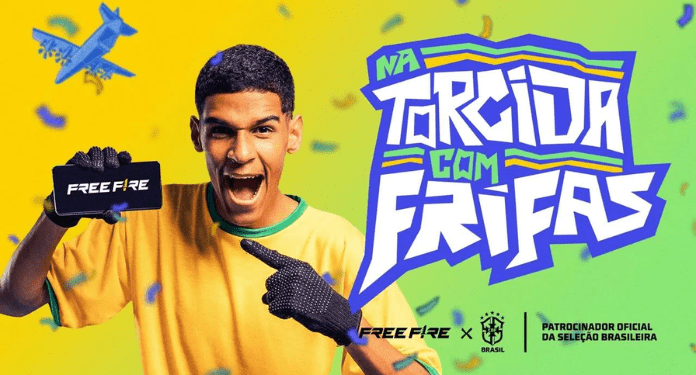 Embarking on the great worldwide success of Luva de Pedreiro, the Brazilian Football Confederation (CBF) and Free Fire – a reference in eSports – carried out an initiative to engage fans for the Brazilian national team in the FIFA World Cup in Qatar in 2022.
Fans will be able to enjoy how the famous "Receba" would sound in each of Brazil's victories throughout history with "Respeita Minha História". Iran commented on the partnership: "Free Fire and football go side by side and, therefore, Booyah and Receive will come together in this support for the sixth in Brazil. Let's get together to cheer for the country, whether in Free Fire or football ".
Check out the commercial video made between the influencer and the mobile game:
In addition, while cheering on each Brazilian victory, Free Fire fans will have the opportunity to redeem the official Brazilian national team shirts within the game, along with several other in-game events with rewards for everyone. Among the events are the 'Haja Coração', 'Show do Intervalo' and the 'Resenha Pós Jogo', all available on the days when Brazil is on the pitch.
See how the events will work
Haja Coração!
The Haja Coração event will be available 2 hours before the Brazilian team takes the field. The player will gain two room cards when logging in as soon as they enter the game, a weapon ticket (surviving more than 15 minutes in any game mode) and can also receive up to two trial cards for the 'Groza' weapon if they call a friend to play together.
Halftime show
After the first half, the 'Interval Show' begins. The event starts at halftime and will last 65 minutes. The player can receive a trial of the 'Groza' weapon, a weapon ticket when playing a ranked game and also another trial of the Groza weapon when performing a 'Booyah!'.
Resenha Pós-Jogo
At the end of the match, players who return to Free Fire will be able to participate in the 'Post-Game Review', an event that starts as soon as the match ends and lasts until the end of the day. Rewards include a Weapon Ticket for surviving up to 15 minutes in any game mode and up to 2 Trial Cards and Groza Weapon playing with a friend.