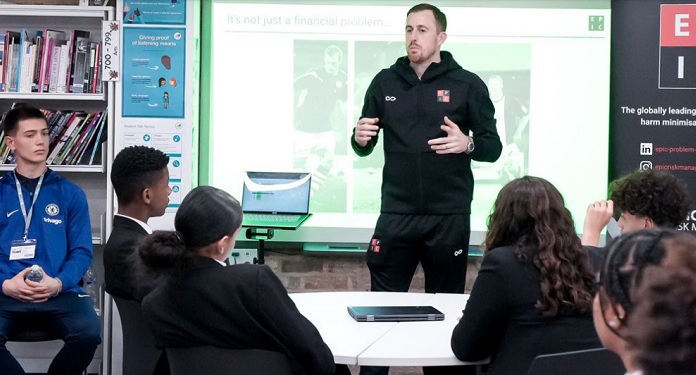 Epic Risk Management has partnered with the Chelsea FC Foundation, joining the 'Chelsea Champions' project in schools across South East England. Under the agreement, Epic will add its excessive gambling harm awareness initiative to the Chelsea Champions project at five schools in the same area.
In addition, five Epic facilitators have joined Chelsea Champions to work alongside the club's youth players and coaches. To mark the agreement, these professionals will teach workshops focused on mental health and well-being in educational institutions.
Epic facilitators Scott Davies, Patrick Foster and Andy Margett have made regular trips to schools served by the foundation. These schools include Chelsea Academy, Fulham Cross Academy and Fulham Boys' School – all close to Chelsea's home stadium, Stamford Bridge.
Facilitator Paul Findlay MBE traveled to Thomas Bennett Community College in Crawley, while Epic's Marc Williams visited Merstham Park School in Redhill. Epic has reported that contributors who have joined the Chelsea Foundation's efforts have had issues due to excessive gambling. Epic employees shared their stories with the teenage audience in a presentation alongside Chelsea youth players.
Chelsea FC Foundation representative celebrates Epic deal
Chelsea FC Foundation Senior Project Officer Jonny Drabble said: "It's great to be able to utilize and work alongside Epic, using their real-life experiences, which I think has touched and brought a lot to the students. The facilitators spoke well and with passion, and I think anything like that adds that extra value."
"I hope this encourages some positive conversations, increasing the importance of talking and knowing who to talk to and sharing these issues. We have an officer who works full time at the school, so we hope that Epic's message can encourage these positive conversations to continue in schools."